The following post was written by IWA Graduate Assistant, Emma Barton-Norris.
Six-on-six girls' basketball was extremely important in Iowa, to both those who played the game and to those who made the trek to attend the annual Iowa State Championship every year. In the newly processed collection, Six-on-Six Girls Basketball in Iowa ephemera, the stories of individuals who experienced the "joy and zest" of the sport are put on display.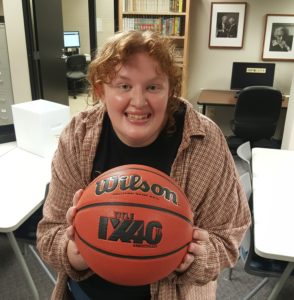 The Six-on-Six Girls Basketball in Iowa ephemera is a continuation of a long-standing project at the Iowa Women's Archives (IWA). Finding unique and inspiring stories in the past of Iowa's girls' and women's sports, the IWA created the physical and digital exhibit 6-on-6 Basketball and the Legacy of Girls' and Women's Sport in Iowa back in 2018. During the traveling exhibit, IWA Curator Kären Mason and University of Iowa lecturer Jennifer Sterling collected stories from Iowans about their personal histories with one of Iowa's favorite pastimes: girls' six-on-six basketball.
What is six-on-six basketball, and just what made it different and exciting for players, coaches, and fans alike? According to the 2008 Iowa Public Television documentary "More Than a Game: 6-on-6 Basketball in Iowa," the six-on-six version of basketball that became known and loved by Iowans was established by 1920. Girls played a two-court, six-on-six game that required three forwards from one team and three guards from the other on each side of the center line – and no one was allowed to cross it. This meant that if a team had one high scorer, they couldn't be beat. In addition, players were only allowed two dribbles at a time and a referee was needed to inbound the ball after every basket. But why was this new version of the traditional five-player basketball game (that had been invented and played for nearly half a century before) necessary? It's simple: sexism. Girls were seen as the "weaker sex" and the full-court, five-on-five version would be too strenuous for their weak disposition.
This did not stop the rise to fame that girls' basketball experienced in small town Iowa. In fact, the game was uniquely made to help small-town Iowan schools thrive because of a team's ability to rely on one high scorer. Towns like Newhall and Van Horne became the heart and soul of six-on-six.
Highlighted within the new ephemera collection are notable names in women's Iowa basketball, such as 1968 State Championship star Janet Scharnberg and 1995 University of Iowa women's basketball coach Angie Lee. Numerous newspaper clippings showcasing the excitement rural Iowans had for their "Iowa girls" are also heavily featured. One such newspaper article exemplifies how the passion of six-on-six fans encouraged the longevity of the game in Iowa. Newhall and Van Horne won the Iowa State Championship in both 1927 and 1962. Within Jean Kubu's folder of Six-on-Six Girls Basketball in Iowa ephemera, a copy of the March 9, 1972, South Benton Star-Press cover story features this girls' basketball team in 1927 and 1962 – two state champion teams, side by side.
As told by "The Bobcat" in 1972:
"…we take you back to the year 1927… It was a hectic journey to the number one spot, as it so often is, even for the best of team, which Newhall was, as evidenced by their outscoring of combined opponents, 703-147. […] By the final round of the [State Championship] tournament, Newhall had three starters on the bench, but kept battling, narrowing it to 37-36, favor of their opponents Sioux Center. With just 30 seconds remaining in the game, Newhall's Luella Gardemann fired in the winning basket for a thrilling 38-37 victory and the state crown.

"For the girls from Newhall wearing bloomers, it was a great time and one the people who lived in Newhall in 1927 will never forget. The tears, smiles, hard work and teamwork all paid off for those Newhall girls and their coach…"
From ten minutes away, and thirty-five years apart, the Van Horne girls' basketball teams of 1962 would accomplish the same feat.
"The Bobcat" continues: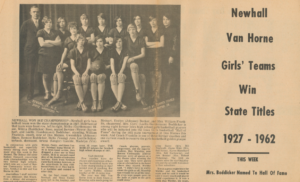 "The year was 1962. Van Horne went to the state finals at Waterloo with much going for them. […] During the week of the state tournament, Van Horne, and the surrounding areas had a bad snowstorm, but the fans came to Waterloo anyway. The team had not even practiced because of bad weather, and they didn't check into their hotel until they had already played their first game.

"Tension was tight during the game and the score was close, but the team won 62-59 to win the coveted state championship. […] As they left Waterloo, they were on the television and at the Garrison corner a caravan of about three miles in length followed them to Van Horne […] to present the trophy to the team and coach."
"The Bobcat" concludes:
"The Bobcat" concludes: "It was a great experience for the basketball team… It was a week that coach, the team, and fans will never forget."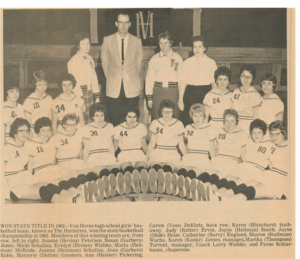 The Iowa Women's Archives is proud to now have these Iowans' stories available for all to enjoy. Materials include memorabilia, photographs, newspapers, tournament programs, and film of actual State Championship games. With the help of basketball players, old and new, the IWA has been able to save the legacy and history of girls' and women's sport in Iowa.
The progress six-on-six basketball made for young women carries on in every girl's high school basketball game. Those who attended the crowded six-on-six championship games can never forget the energy on the court and in the stands. Iowa's high school and collegiate players who now participate in five-on-five basketball should never forget that their great-great-grandmothers also played the game they loved. Six-on-six may be gone from high school athletics, but it will never be forgotten.
Citations:
More Than a Game: 6-on-6 Basketball in Iowa, directed by Laurel Burgmaier (2008; Johnston, Iowa: Iowa Public Television, 2008), DVD.
Six on Six Girls' Basketball in Iowa ephemera, Iowa Women's Archives, The University of Iowa Libraries, Iowa City.