The Iowa Women's Archives (IWA) will kick off Women's History Month with an event at the Iowa City Public Library! Welcoming the Immigrants: Refugee Resettlement in Jewish Iowa will bring Dr. Jeannette Gabriel of the Schwalb Center for Israel & Jewish Studies at theUniversity of Nebraska-Omaha to Iowa City. In her talk, Gabriel will use IWA resources to examine the impact of WWII refugees on Iowa's Jewish Communities. The event will take place 4:30 – 6pm simultaneously at the Iowa City Public Library, Meeting Room A and online, livestreamed on the ICPL's YouTube channel.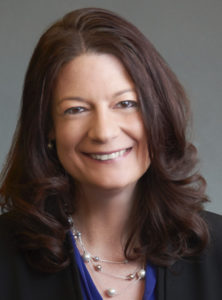 The Iowa Women's Archives has long held strong collections in Jewish history, including the papers of one of our founders, Louise Rosenfield Noun and the papers of Joan Lipsky, the first woman to represent Linn County in the Iowa General Assembly. Lipsky had a strong interest in preserving the history of women like her own Jewish ancestors who immigrated to Iowa. She gave $50,000 to IWA to establish the Jewish Women in Iowa Project and hire Jeannette Gabriel as its project archivist. For three years, Gabriel worked closely with potential donors around the state to bring Iowa's Jewish history to the University of Iowa.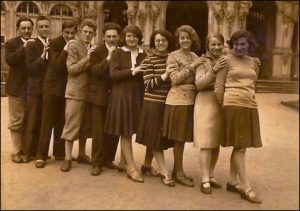 Today, thanks in part to her work, the IWA has 50 collections documenting Jewish life in Iowa including the papers of Gusti Kollman, a refugee from Nazi-occupied Austria who settled in Mt. Vernon Iowa, and the records of the Shaare Zion Synagogue and Mt. Sinai Temple in Sioux City, that offer a window into one of Iowa's largest Jewish communities of the mid-20th century.
Welcoming the Immigrants is part of a semester long schedule of events celebrating Anne Frank and Jewish life in Iowa. This larger program, The Anne Frank Tree: Taking Root in Iowa, will culminate April 29th 2022 on the Pentacrest with a planting ceremony for a sapling propagated from the immense horse chestnut tree that grew in the courtyard behind the annex where Anne Frank and her family hid for 761 days during World War II. It will be only the 13th Anne Frank Tree planted in the United States. For a full schedule of this semester's Anne Frank Tree events, see the project's website or contact the Obermann Center.
Welcoming the Immigrants: Refugee Resettlement in Jewish Iowa
Where: Iowa City Public Library, meeting room A OR Iowa City Public Library YouTube livestream
When: March 1, 2022, 4:30 – 6pm
Individuals with disabilities are encouraged to attend all University of Iowa-sponsored events. If you are a person with a disability who requires as reasonable accommodation in order to participate in this program, please contact the Iowa Women's Archives in advance: 319-335-5068.