Edna Griffin, known as the Rosa Parks of Iowa, has gained deserved attention over the years for her civil rights activism, especially for her role in the effort to desegregate the lunch counter at Katz Drug Store in Des Moines. Her actions resulted in a successful suit against the store under Iowa's 1884 Civil Rights Act. At the Iowa Women's Archives, where Griffin's papers are held, visitors come in looking for her picture or hoping to glimpse her FBI file. Dr. Melissa Ford, Associate Professor of History at Slippery Rock University in Pennsylvania, wanted to dig deeper.
Dr. Ford is a scholar of Black American history and a recipient of the Linda and Richard Kerber Travel Grant, which assists scholars in traveling to Iowa City for their research. Ford's research focuses on the intersections of race, gender, and class in the social movements of the Midwest. Her most recent book, A Brick and a Bible: Black Women's Radical Activism in the Midwest During the Great Depression won the 2023 Illinois State Historical Society Certificate of Excellence. Building on her previous work, she plans to write a series of short biographies on Black activists entitled Their Examples Will Inspire Us: Five Black Communist Women. Edna Griffin will be one of the five.
Ford also knew of Griffin initially for her boycott of and suit against Katz Drug Store, but she also knew that her political activism went far beyond the boycott and into labor unions, peace activism, and organizations like the Progressive Party, which was the first political party in the United States to nominate a Black woman for Vice President.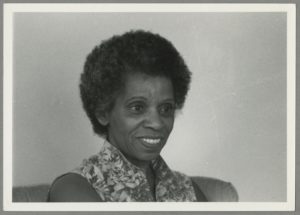 During her time at IWA, Ford dug into the Edna Griffin papers and the Women's International League for Peace and Freedom (Des Moines Chapter) records, to find out about Griffin before and after the famous State v. Katz case went to the Iowa Supreme court. Through a close reading of her FBI file, interview transcript, and Progressive Party materials, Ford found an activist who never tired. Even in the 1980s when she was over 70 years old, Griffin was arrested protesting nuclear weapons.
Ford says the sources she found in IWA and Special Collections & Archives were "immensely helpful" in contextualizing Griffin within Black Des Moines in the 1950s and the peace activism movement. But her favorite find the Archives was personal. Ford has a connection to Iowa. Her father had been politically active in Des Moines in the 1970s. While reading a newsletter from Griffin's papers, she spotted the name of an organization he had been in and realized she and Edna Griffin were just a few "degrees of separation" away from each other!
We loved having Dr. Melissa Ford at the Archives and can't wait to read her fresh and in-depth take on the life of Edna Griffin and four other Black woman activists!