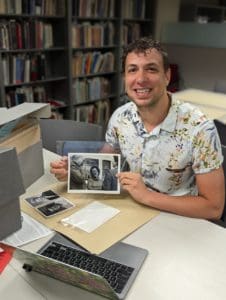 Every year, the Linda and Richard Kerber Travel Grant allows researchers from across the country to come to Iowa City and use the Iowa Women's Archives' collections. Ezra Temko, is the grant's first second-time winner. He first visited the IWA in 2018 as a PhD candidate in Sociology from the University of New Hampshire, where his research investigated gender representation in politics. Temko's interest in Iowa was peaked when he learned that in 2009, it became the only state in the U.S. to require gender balance for state and local boards and commissions. Through personal interviews and his research at IWA, he discovered that the law's underpinnings went back decades. IWA collections like the Iowa Women's Political Caucus records and Governor Ray's Commission on the Status of Women records played a central role in contextualizing his dissertation research. Here, Temko says, he found local stories that he could find nowhere else, like this one that Temko related from A Political Dialogue: Iowa's Women Legislators Oral Histories:
"[ Joan] Lipsky was president of the Cedar Rapids AAUW. Her local school board was all men, and had a policy of having outgoing board members resign the summer before the elections, with the board appointing someone who could then run as an incumbent, giving them an advantage. They only appointed men, and when they appointed an incompetent man, Lipsky ran against him and lost. She then formed a coalition that put political pressure on the board to appoint a woman in 1958, and subsequently the coalition put pressure on the city council and county board to appoint women to their boards and commissions, something the local governments resisted. (Lipsky later ran for and served in the state legislature.)"
Now five years later, Dr. Ezra Temko is Assistant Professor of Sociology at Southern Illinois University Edwardsville, and he's extending his dissertation research into a digital humanities project that will place Iowa's political gender balance history into an online format. Temko wants a timeline that will move beyond the theoretical and transport users into the events and happenings that built up to Iowa's 2009 law. But while developing the timeline, he found gaps in his original research. To successfully transform his dissertation into an online interactive experience, he needed more detailed stories to hook new researchers, and more images to illustrate them. So, it was back to IWA!
Over a six days of research in the IWA, Temko revisited collections he'd seen in 2018 like the Johnie Hammond papers and spent more time with the papers of politicians like Minnette Doderer and Beverly Hannon who battled sexism inside and outside of the state legislature. Temko found that women confronted the sexism that frustrated their work in different ways. Some leaned into the Iowa legislature's women's caucus to find solidarity, others pursued alternate routes. Temko's favorite archival find from IWA was a picture with little holes from the Beverly A. Hannon papers. Hannon, a senator in the state legislature, had put pins into pictures of other legislators who frustrated her.
Temko's timeline is not yet available online, but thanks to his week in the Iowa Women's Archives, he's feeling optimistic that he'll soon be unveiling a digital resource that will introduce a new audience to half-century long story of board and commission gender balance in Iowa.