This post was written by IWA Graduate Assistant, Erik Henderson
In 1891, James Naismith invented the sport of basketball in Massachusetts at what is now Springfield College. In the early 1900s, the game was adopted for women throughout America especially in small town Iowa. The first Iowa State Championship for girls was played in 1920, the same year women received the right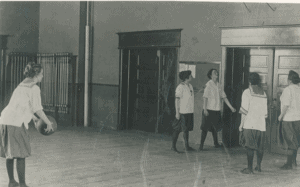 to vote. In 1934, Iowa transitioned into two-court, six-on-six women's basketball. However, the introduction of Title IX began to slow the popularity of 6-on-6 women's basketball. The opportunity to play basketball at the collegiate and state level pushed more women towards 5-on-5. Ultimately, 6-on-6 play began to phase out and was officially discontinued in 1993.
In 1993, in Albuquerque, New Mexico, Janice Beran delivered her speech "Why Only in Iowa North [illegible] of Sport History." It describes some key factors in why 6-on-6 women's basketball survived in Iowa an era when all other programs were being disbanded. Beran was a professor in the College of Education at Iowa State University until her retirement in 1994. The Janice A. Beran papers primarily consist of published and unpublished articles, and research files concerning her work on women and African Americans in sport. Her research on the history of Iowa girls' high school basketball culminated in a book published in 1993, From Six-on-Six to Full Court Press: A Century of Iowa Girls' Basketball. This post will not be a highlight of Beran and her book, rather a dive into why the 6-on-6 basketball lasted in Iowa after other programs around the country were eliminated.
Beran first positions the reader to consider the importance of high school sporting events to small towns. She wrote: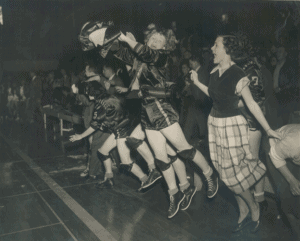 In the rural areas where the tradition is strongest everyone from newborn babe to the oldest great grandma attends this most important event on the week's calendar. Those great grandmas were once on the court vividly recall the heady excitement, the ups and the downs, the centrality, basketball had in their lives as high school students.
As a former high school and collegiate athlete, I have those same feelings about my athletic journey. The energy athletes receive from the community and from the opposition can fuel someone beyond their known potential. Small town engagement and passion for sporting events in Iowa was the catalyst for the longevity on women's 6-on-6 basketball.
For this speech and many others, Beran sought advice and information from experts through interviews, some of which are preserved in her papers at IWA. From the information received from interviewees, Beran listed ten possible reasons why 6-on-6 basketball survived in Iowa, while other states disbanded the program. Many of the reasons other programs were ended was often due to preconceived stereotypes placed on young women due to the ideologies of the early 20th century. She lists the ten reason as well as brief explanation (we list the first few), leaving the reader with possible future concerns.
Male advocacy for girls' basketball was a principal factor. She mentions four men who "were instrumental in starting the federation and ensuring that girls had a competitive basketball program."
There was no single dominant female physical educator in Iowa like in surrounding states; "leading female physical educators were against competition between schools and favored providing a broad range of participation opportunities rather than using the limited gym time to training a few girls to play basketball."
In rural and small-town schools between 1920's-60s there was less demand on gym space. "In the small towns the girls' coach was often the boys' coach so it was simple for him to arrange for equal practice for both teams."
Basketball was not viewed as too physical[ly] taxing for girls in rural communities. "Descendants of pioneers, rural women were accustomed to heavy farm work.
High schools became the hub of rural community life and "basketball for girls filled an entertainment void in rural communities."
The list above are just the first five reasons for the durability of Iowa women and girls' basketball. It details the collaborative effort not just from women athletes but also community members.
After a good run in the NCAA Basketball tournament by the Hawkeyes, and be a D-III athlete, I realize we all cannot we be Caitlin Clark and be the leading scorer for the Iowa women's basketball team as a freshman and hold two state records for Iowa as a high schooler. Nor can we be Luka Garza, named the best player in Iowa men's basketball history and named Player of the Year. However, some of us can be and are the people that watch, analyzes, and research the nature of sports, just like Janice Ann Beran. We can be a part of a sector of society that we enjoy without being the focal point. As a beacon of hope for retired collegiate athletes like myself, in 1992 Beran was the first to win the Central District Scholar Award from the Central District Association of the American Alliance for Health, Physical Education, Recreation and Dance.