This fall, Yamila Transtenvot, an instructor in Spanish at Cornell College, has been working with IWA, The League of United Latin American Citizens (LULAC) Council 10, and the Davenport Community School District (DCSD) to bring primary sources about Latino/a/x history to Iowa schools. I sat down with Transtenvot this Latinx Heritage Month to discuss this exciting collaboration.
Transtenvot, originally from Buenos Aires, Argentina, has a background in education. She trained as a high school literature teacher and spent time working for the government of Argentina in an after-school program aimed at getting disadvantaged youth excited about reading and writing. Eventually, the University of Iowa's Master of Fine Arts in Spanish Creative Writing pulled her to the United States. While completing her MFA, she taught Spanish at UIowa. When members of LULAC Council 10 approached her about writing lesson plans with IWA's Latina collections, it seemed like a natural fit.
Davenport schools introduce migration as a topic to students in elementary school, but the current curriculum lacks stories about Mexican migration, which began in the 19th century and accelerated in the 1910s during the Mexican Revolution. DCSD and LULAC Council 10 wanted to introduce new stories and more primary sources into migration lessons. IWA houses dozens of collections and over one hundred oral histories documenting the lives of Latinas in Iowa. Transtenvot used Migration is Beautiful, a website about these collections, and advice from IWA's staff to choose just a few items and oral histories to highlight.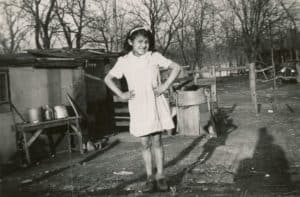 Transtenvot concentrated on the stories of young people. In one the three lessons that she's created, students will use the memoir of Martina Morado, who immigrated to Iowa as a teenager in the 1910s, to learn about migration. In another, a childhood photograph of Otilia "Tilly" Gomez in Cook's Point, a Mexican settlement in Davenport, Iowa, will help students think about cultural heritage and what life was like for immigrants in Iowa during the first half of the 20th century. The way Transtenvot has planned the lessons offers several ways to engage with the topic including class discussion, a Kahoot quiz, and a migratory Monarch butterfly for them to color.
Above all, Transtenvot wants students to learn how to reflect on primary sources and form their own thoughts about them. The lessons are filled with questions that allow students to think and wonder. For example, after seeing a photograph of Angela and Martina Morado from 1913, classes will be invited to speculate in writing on the relationship between the women, how old the photograph is, and whether it reminds them of any old photographs they've seen of their own families. Transtenvot has also striven to center the voices of Latinas by using excerpts from oral histories by Rosa Mendoza and Otilia Gomez, and a memoir by Martina Morado. She says that the charm of primary sources is that they give a glimpse of people's personal experiences. By making space for these voices and for reflection on what they say, Transtenvot hopes her lessons will help students build empathy.
The lessons will debut in Davenport, but Transtenvot sees this as a starting point. She'd like to see the project spread to other districts in Iowa and perhaps go further, resulting in lessons about other underrepresented groups in the state. Finally, she intends to have her lesson plans put on the Migration is Beautiful website, where they will become resources and inspiration for teachers across the country.