The following was written by academic outreach coordinator Kathryn Reuter
Reading poetry by Black authors is a great way to celebrate Black History Month! We searched through Special Collections and Archives to find materials from Black poets, some who are familiar to us, and some less so. It was tough to limit ourselves to just 10 poets to highlight, but we hope the list below provides some inspiration for your next visit to our reading room.
You can see some of these books of poetry yourself at our Black Poetry Pop-up on Wednesday, Feb. 22, from 1:30 to 3:30 p.m. in Group Area D of the Main Library (1st floor, across from Food for Thought Café). Stop by the pop-up to make some poetry of your own! We will have supplies for cut and paste and blackout poetry.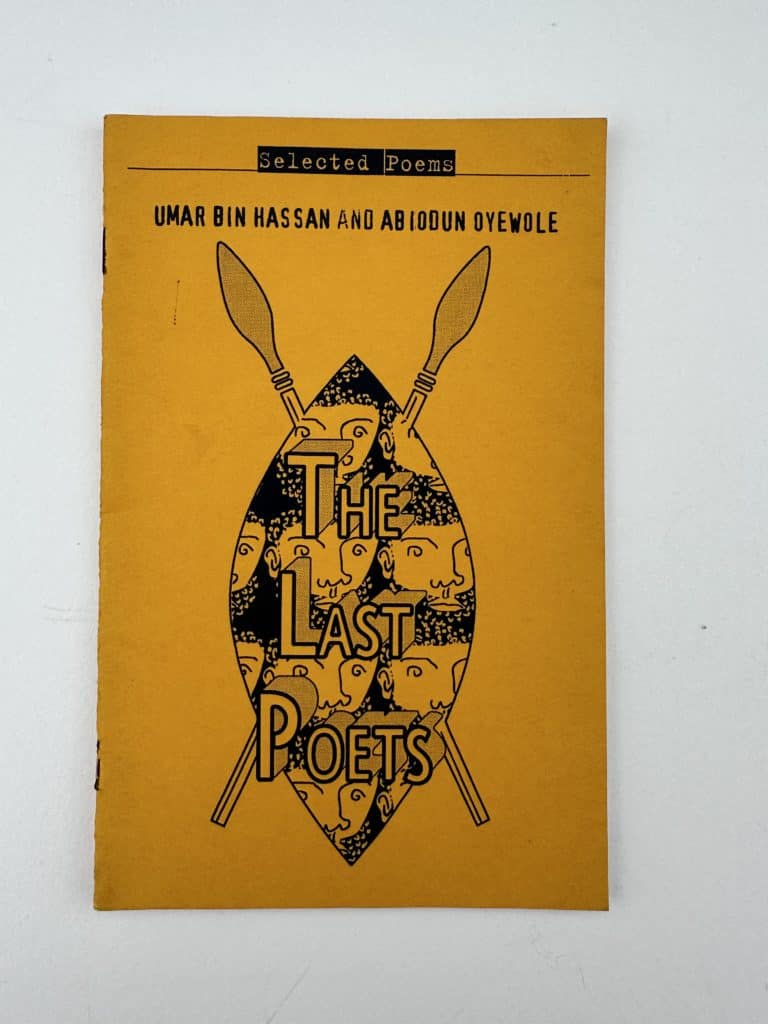 1.The Last Poets 
First on our list is the poetry and music collective The Last Poets. Originally founded in Harlem, New York, in 1968, the group has since experienced several iterations with different members. Music historians and critics consider The Last Poets to be the forefathers of hip-hop because of their groundbreaking spoken word poetry and protest raps. Of their founding, Abiodun Oyewole writes, "The Last Poets were born on May 19, 1968/ In Mount Morris Park in Harlem, New York/ It was a birthday celebration in memory/ in honor of Malcolm X/ The Last Poets were on a mission/ we became the voices of the East wind/ blowing away the West with our sound/ The Last Poets, men who knew/ in their youth the truth must be told/ the lies must be revealed/ and we got to be sassy and funky and sincere/ about it" (from the poem "Invocation"). The pamphlet Selected Poems: The Last Poets was printed in 1993 and is part of the Andrew William "Sunfrog" Smith Collection of Alternative Publications. The back cover is inscribed to Sunfrog by Last Poets Umar Bin Hassan, Baba Donn Babatunde, and Abiodun Oyewole.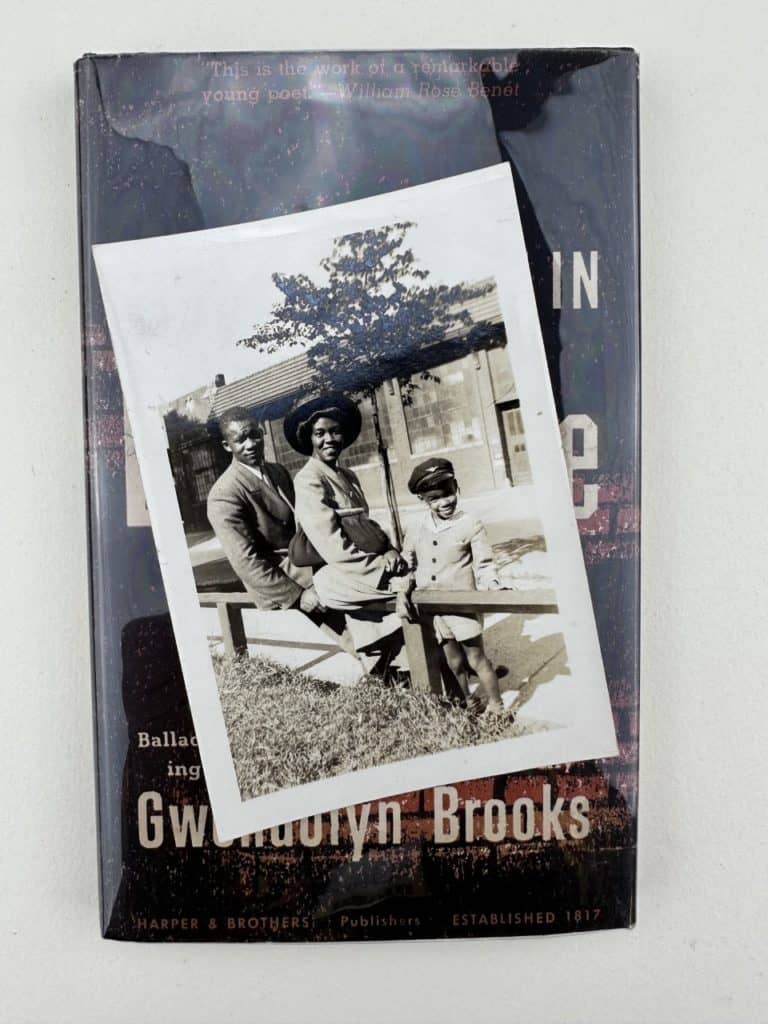 2. Gwendolyn Brooks
Born in 1917, Gwendolyn Brooks published her first poem at the age of 13 and would go on to have multiple pieces published in the African-American newspaper The Chicago Defender. A Street in Bronzeville (1945) was her first book of poetry, it celebrates the everyday people living on Chicago's South Side. One of the copies held in Special Collections is inscribed by Brooks to Paul Engle, director of the Iowa Writers' Workshop, who praised the book in a review for the Chicago Tribune. Found in Special Collection's second copy of A Street in Bronzeville is a photograph of Gwendolyn Brooks, her husband Henry Lowington Blakely, Jr., and their son Henry Lowington Blakely III, dated to 1945. Because the handwriting on the back of the photograph matches Gwendolyn Brooks' inscription to Paul Engle, we believe this family photo was labeled by the author herself, and perhaps tucked into the book before giving it to a friend.
3. Margaret Walker
Like Gwendolyn Brooks, Margaret Walker was an influential poet of the Chicago Black Renaissance. Walker is also a two-time graduate of the University of Iowa. You can visit her 1940 master's thesis, a poetry collection titled For My People, in the University Archives. With this volume of poetry, Walker won the prestigious Yale Series of Younger Poets Competition. While a master's degree student at the University of Iowa, Walker was roommates with artist Elizabeth Catlett. In 1992, the two old roommates collaborated to produce an illustrated edition of For My People. Catlett's prints from this work are held at the Stanley Museum of Art, and you can view them on the Iowa Digital Library. Margaret Walker returned to the University of Iowa to earn her PhD in 1965. For her dissertation, she submitted her first completed draft of her acclaimed novel Jubilee.
4. Phillis Wheatley
In 1773, Phillis Wheatley became the first African American author to publish a volume of poetry. Born in West Africa, Wheatley was kidnapped and sold by slave traders. The Boston merchant John Wheatley bought her as a slave for his wife and the couple renamed the young girl. In the Wheatley household Phillis received tutoring in reading and writing – she wrote her first poem at the age of 14. Not finding publishers in New England willing to support her writing, Wheatley traveled to London where her collection Poems on Various Subject was published. Special Collections and Archives holds an issue of this volume, printed in 1834, which also includes a memoir of Wheatley written by Margaretta Matilda Odell.
5. Amira Baraka
Born Everett LeRoi Jones (in Newark, New Jersey, in 1934) Baraka changed his name to Amiri Bakraka after the assassination of Malcolm X in 1965. The same year, Baraka founded the Black Arts Repertory Theater in Harlem, New York, effectively sparking the Black Arts Movement. Baraka wrote in multiple genres, penning poems, plays, and essays. Baraka's influence as an artist, activist, and teacher cannot be overstated. Special Collections and Archives houses two inscribed volumes of Baraka's poetry [Selected Plays and Prose of Amiri Baraka/ LeRoi Jones (1979) and The Sidney Poet Heroical, in 29 Scenes (1979)] – as well as a sampling of poems stapled together in a pamphlet titled Black Art. Printed in 1966, this pamphlet came to the University of Iowa through the collection of artist Lil Picard.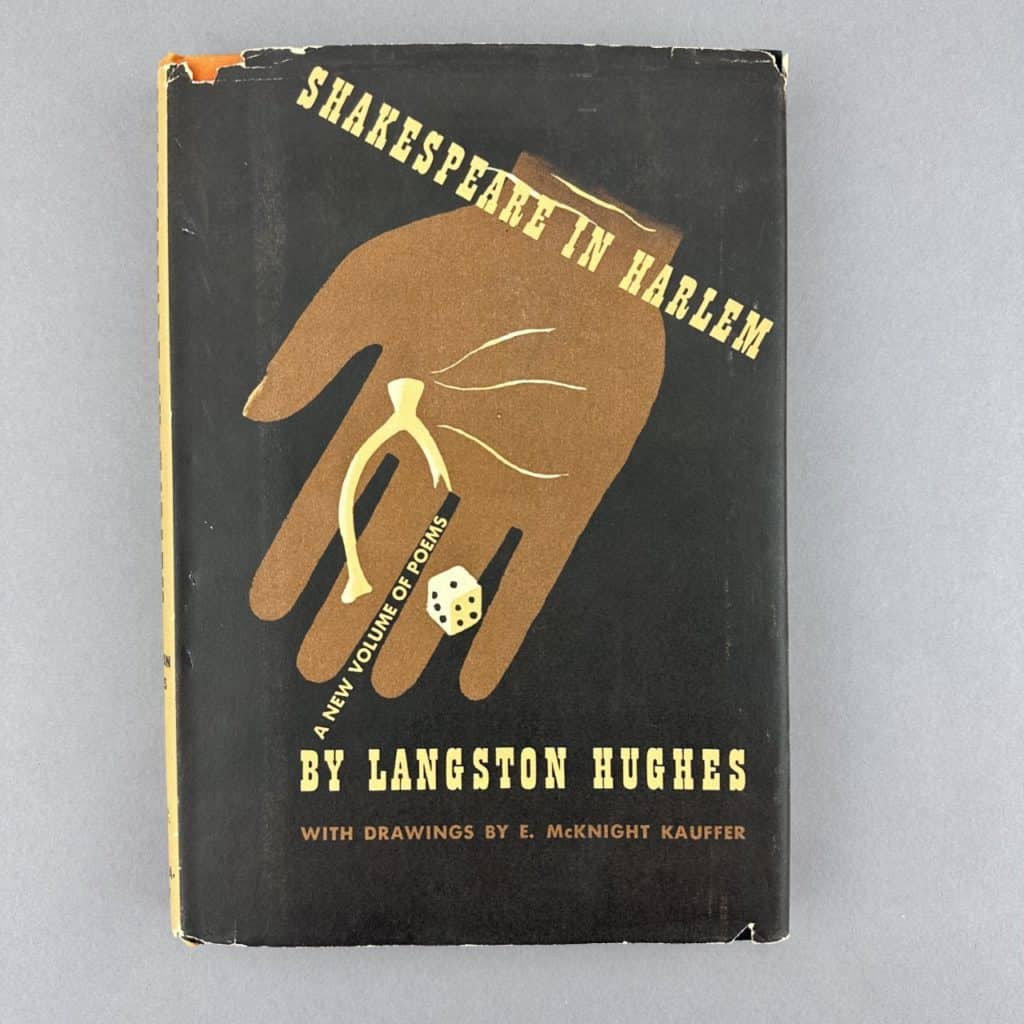 6. Langston Hughes
Like Baraka, Langston Hughes was a writer who excelled in multiple forms. Considered a leader of the Harlem Renaissance, Hughes' poems such as "Harlem" (also known as "A Dream Deferred") and "I, Too" are iconic pieces of American poetry. We hold a number of Langston Hughes publications in Special Collections & Archives, but one of our favorites is this first edition of Shakespeare in Harlem, inscribed by the author to his friend Lee Crowe.
7. Rita Dove
Rita Dove was born in Akron, Ohio, in 1952. She earned her MFA in creative writing from the University of Iowa in 1977. She was U.S. Poet Laureate at the Library of Congress from 1993 to 1995. Pictured here is Dove's collection Ten Poems, of which approximately 200 copies were printed by hand in Lisbon, Iowa, at Penumbra Press in 1977.
8. Jean Toomer
Jean Toomer (born Nathan Pinchback Toomer in 1894, Washington, D.C.) might have objected to being on this list of Black poets because he resisted racial categorization and identified simply as "American". Of mixed-raced ancestry, Toomer attended both segregated Black schools and all-white schools throughout his education. In 1921, he taught at an agricultural college in Georgia – his experiences there inspired him to start writing a series of vignettes that would be published as Cane in 1923. The novel has a non-traditional structure, combining poems and short stories about different characters. The copy of Cane seen here was published in 2000, it contains woodcuts by the artist Martin Puryear. Jean Toomer's archival papers are held by the Beinecke Library at Yale, and some of the collection has been digitized, which you can browse here.
9. Frederick Tillis
Perhaps best known as a composer and jazz musician, Frederick Tillis (1930-2020) was also a prolific poet. He earned both his MA and PhD in music composition from the University of Iowa. You can find his dissertation (Quartet for flute, clarinet, bassoon and cello) in the University Archives and a number of his poetry books in our Iowa Authors collection.
10. Nikki Giovanni
Nikki Giovanni was one of the leading authors of the Black Arts Movement. Born in Knoxville, Tennessee, in 1943, Giovanni was raised in Ohio and attended Fisk University. Until 2022, she taught as a university distinguished professor at Virginia Tech. In addition to numerous poetry collections, Giovanni has authored several children's books and was nominated for a Grammy Award (for Best Spoken Word or Non-musical Album) for The Nikki Giovanni Poetry Collection. We love the cover of this 1971 publication Re:Creation, which features the photography of Chester Higgins.