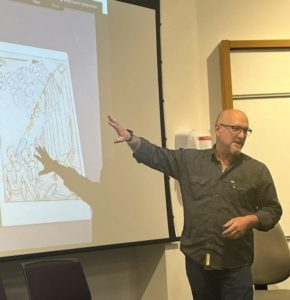 We are pleased to announce Rich Dana as Special Collections and Archives' Sackner Archive Project coordinator librarian.
Rich Dana earned his MFA from the University of Iowa Center for the Book in 2021 and his MA from the School of Library and Information Science in 2020. He has worked as an art mover, art fabricator and art installer, and curator for a variety of New York City galleries and institutions, and has served as a freelance instructor and workshop leader for several years. He has also held various roles at Special Collections and Archives: as curatorial assistant for the Hevelin Collection, the Olson graduate research assistant, and temporary project registrar for the Ruth and Marvin Sackner Archive of Concrete and Visual Poetry.
In addition to his past work with the Sackner Archive, Dana is himself a copier artist (one of his works is included in the Sackners' collection) and independent publisher. His 2021 book Cheap Copies! describes some of the techniques used by artists in the collection, and he frequently leads workshops on copier art techniques.
When asked what he enjoys about the Sackner Archive, Dana stated, "Because the Sackners were enthusiastic autodidacts and made personal connections to many of the artists whose work they collected, the archive has a very lively and idiosyncratic quality. It's not only an astounding collection of visual poetry, it's also a remarkable historical record of the movement."
Dana looks forward to raising awareness of this amazing resource and making the materials in the collection more accessible to patrons and researchers. We are so glad to have him on the team.