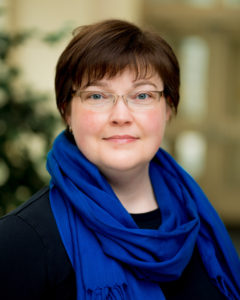 We are pleased to welcome Sarah Keen as our new university archivist in Special Collections & Archives.
Sarah joined the Libraries at the start of the fall semester. She comes to Iowa from upstate New York, where she served as Colgate University Libraries' university archivist and head of Special Collections and University Archives. Previously, she was technical services archivist and American Association of Family and Consumer Sciences project archivist at Cornell University Library, and archivist for the Jane Harman Congressional Papers Project at Smith College. She earned her MSI from the University of Michigan and her BA from Alma College.
As an archivist, Sarah says that she enjoys "learning about people's lives and their experiences as individuals and with the organizations they create." She looks forward to learning about the University, its complex history, and its wide range of activities while collaborating with colleagues across campus.
When not digging through the archives, Sarah enjoys rowing, crocheting, and listening to music. She is also a Red Sox fan, and she enjoys reading mystery books and watching mystery/detective shows. Have we already told her about the culinary murder mystery books in Szathmary's collection? You bet we have.
Welcome Sarah! We're excited to have you on the team.