We are happy to welcome Matrice Young as our new student life archivist in Special Collections and Archives.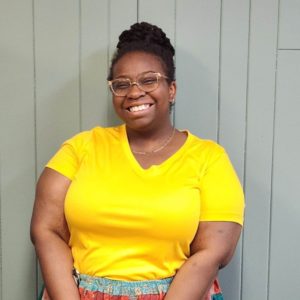 Matrice joined the Libraries at the beginning of summer. Hailing from Chicago, Matrice received her BA in creative writing with minors in educational studies and Africana. She received her MA in Library and Information Science from University of Iowa in May 2023. After spending two years working as the Olson Research Assistant in Special Collections and Archives, Matrice dove into her new role with the University Archives, ready to make connections with student groups on campus.
When thinking about this position, Matrice states that she looks forward to making sure that student groups, particularly and especially marginalized ones, continue to be seen, heard, and given the historical spotlight they deserve. "I'm looking forward to making the connections and processing the collections of groups that we don't have yet and the ones we do! I want people to know that their stories and their groups and organizations matter, and I want to be part of making sure that we continue to record that."
Away from work Matrice enjoys playing a variety of games, from video to board to card. She enjoys drawing, writing, and embroidery, while also watching horror/thriller movies. Spending time with her loved ones, including an adorable cat named Melvin, is also important to Matrice. And of course, she loves reading a good book!