December 7th, 2019 is National SKYWARN® Recognition Day!!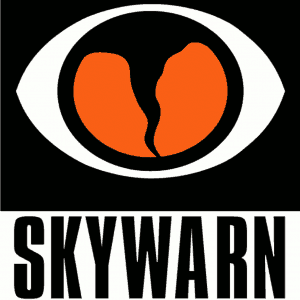 So, just what is SKYWARN® ?
It is a National Weather Service (NWS) volunteer program with between 350,000 and 400,000 trained severe weather spotters. The main responsibility of a SKYWARN® spotter is to identify and describe severe local weather and storms. Unlike storm chasers, they generally stay in one place until it is necessary for them to move. The spotter is the "eyes and ears in the field" for the NWS.
In 1999, the NWS and the American Radio Relay League (ARRL) created SKYWARN® Recognition Day to recognize and honor ". . . the contributions that SKYWARN® volunteers make to the NWS mission, the protection of life and property. . ." It is held each year on the first Saturday in December.
If you are interested in learning more about the weather, we can help! We've had several blogs over the last couple of years that have covered weather – from hurricanes and tornadoes to snow and ice. Catch up with our weather blogs here! If you are interested in hurricanes and tornadoes check out our resources, including Weather and Climate : Notable Research and Discoveries, Extreme Weather : Understanding the Science of Hurricanes, Tornadoes, Floods, Heat Waves, Snow Storms, Global Warming and Other Atmospheric Disturbances, and Big Weather : Chasing Tornadoes in the Heart of America.
Think you would be interested in becoming a SKYWARN® volunteer? Training includes learning about basic severe weather structure and development, how to report, and basic severe weather safety. Training is free and typically lasts about 2 hours. Volunteers include police, EMTs, dispatchers, fire fighters, individuals affiliated with hospitals, schools, nursing homes – and concerned private citizens! You can attend training at any NWS office facility, no matter where you live! Check SKYWARN training for information and find the SKYWARN® program in your area! Attend a training course near you, register as a spotter, and help keep your community safe!
Thank you to all the spotters out there who volunteer their time to help the NWS with the updated, real-time weather information!
Resources:
Skywarn Recognition Day : First Saturday in December. National Day Calendar. Date accessed Nov. 20, 2017.
Skywarn Recognition Day : December 2, 2017 from 0000z to 2400z. National Weather Service. Date accessed Nov. 20, 2017.
NWS SKYWARN Storm Spotter Program. National Weather Service. Date accessed Nov. 20, 2017
Find Local Training Classes. SKYWARN. Date accessed Nov. 20, 2017
Kirkland, Kyle. 2010. Weather and climate : notable research and discoveries. New York : Facts on File. Engineering Library QC861.3 .K57 2010
Mogil, H. Michael. 2007. Extreme weather :understanding the science of hurricanes, tornadoes, floods, heat waves, snow storms, global warming and other atmospheric disturbances. New York, N.Y. : black Dog & Leventhal Publishers. Engineering Library QC981 .M65 2007
Svenvold, Mark. 2005. Big weather : chasing tornadoes in the heart of America. New York : Henry Holt. Engineering Library QC955.5 .U6 S75 2005