RAGBRAI XLVI IS COMING!!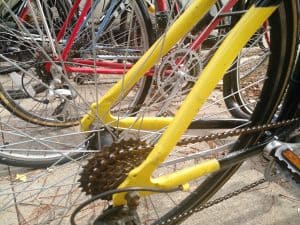 This year the Register's Annual Great Bike Ride Across Iowa (RAGBRAI) XLVI will stop in Iowa City on Friday, July 27, 2018. It begins in Onawa on Sunday, July, 22, 2018 and will finish in Davenport on July 28th. The total number of miles: 428 and there is 12,576 feet of climb – riders definitely need stamina and a good bike!
RAGBRAI has a fascinating history – starting in 1973 as a challenge between Des Moines Register feature writer/copy editor John Karras and Donald Kaul, author of the Des Moine Register "Over the Coffee" column. 114 riders made the ride that first year and it has since grown – it now has a limit of 8,500 week-long riders. For a more complete history of RAGBRAI check out their website: RAGBRAI history – Factoids.
So, what type of bike is best for RAGBRAI, or simply getting around town?
The type of bike you purchase does make a difference. Where you plan to ride, with whom will you be riding, your budget, and your previous experience all make a difference when choosing a bike. Mountain bikes are great for off-road and single track trails, but they are heavier, have thicker tires, are generally slower and require more effort. Road bikes are for paved roads, paths and smooth unpaved paths. They are lighter and designed more for speed. There are also hybrid and comfort bikes, tandems, recumbents, commuters and cruisers. If you are going to ride the entire RAGBRAI route or just a leg or two – check out this link – RAGBRAI – this is the forum where information is available from experienced riders.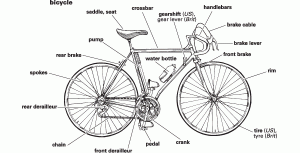 The bicycle is a simple machine, but has many components and it is always a good idea to learn what each component is called. There are 10 bicycle shops that now participate in RAGBRAI, but it doesn't hurt to know basic maintenance for your own equipment. Learning to repair tire punctures yourself can keep you from being stranded by the side of the road whenever and wherever you ride. Bike Repair & Maintenance for Dummies has a section on what to look for in a pre-ride inspection, how to clean and take care of your bike after your ride, and items that should be included in an emergency tool kit – including duct tape!
Electric bikes, or e-bikes, are becoming more popular. A modified or custom bike frame that has pedals but also an electric motor gives the rider the option to pedal or use the power of a battery and motor drive system. They are less expensive than gas-powered scooters and are safer than scooters and motorcycles. A 1 square foot solar panel is enough to power an eBike for 3,100 miles. (Would that be considered "cheating" on RAGBRAI?)
There are also luxury bikes – the Monanate Luxury Gold bike has 24 carat gold leaf and 11,000 Swarovski crystals. The fenders are steam-bent wood and there is python leather on the handlebars, seat and around the lock. There are only 10 Luxury Gold bikes in existence and cost about $33,000. I don't know about you, but I would probably never ride this bike, if I could afford it, that is!
If RAGBRAI has piqued your interest in the science of bicycles, check out our resources! We have everything from The Wooden Bicycle: Around the World; The Mechanical Horse: How the Bicycle Reshaped American Life; Design of Human-powered Vehicles; and The Bicycling Guide to Complete Bicycle Maintenance & Repair: For Road & Mountain Bikes and LOTS more!
If you are interested in building your own bike, making upgrades or customizing your bike, we've got you covered there, too – Make: Bicycle Projects & Building Your Own Electric Bicycle might be just what you need to get started! And Bike, scooter, and chopper projects for the evil genius has the information you need to create your own Gladiator Chopper, 3-wheel trikes for adults and kids, stunt bikes, and electric-powered bikes!
Celebrate RAGBRAI by cleaning your old bike, buying a new one, or building your own!
Then check out all the Iowa City RAGBRAI activities on Friday July 27th and ride your bike on down!
Resources:
RAGBRAI XLVI. 2018 RAGBRAI
Drinkell, Peter. The bike owner's handbook. 2012. London : Cicada Books. Engineering Library TL430 .D75 2012
Bailey, Dennis. Bike repair & maintenance for dummies. 2009. Hoboken, N.J. : John Wiley. Engineering Library TL430 .B35 2009
What is an electric bike? 2015. Electric Bike Review.
The eBike book. 2013. Kempen, Germany : New York : teNeues Pub Group. Engineering Library TL437.5.E44 E35 2013
Graham, Brad. 2008. Bike, scooter, and chopper gadgets for the evil genius. New York : McGraw-Hill. Engineering Library TL400 .G689 2008
The bike book : lifestyle, passion, design. 2012. Kempen, Germany : teNeues. Engineering Library FOLIO TL410.B54 2012