So, it's winter. You are tired of being cooped up inside. You need exercise (and not on a treadmill). You need fresh air. Got snow? Why not build an igloo?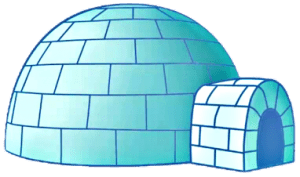 A great way to spend some time in the great outdoors – fresh air, exercise – fun with your family and friends! So, let's get started!
According to Norbert E. Yankielun, author of How to Build An Igloo and Other Snow Shelters, the first thing to do is "make friends with winter." Which makes sense since you'll be outside working with snow – it's cold out there and you don't want frostbite, dehydration, or hypothermia. To protect yourself, you'll want to be sure to have the right clothing, nutrition, and water. You may already know that several layers of clothing are the best way to insulate yourself from losing body heat. But, you do want to avoid wearing cotton clothing because it absorbs and holds water and moisture. Similarly, you'll want to wear mittens (which are warmer than gloves) that have a waterproof shell to keep your hands dry. And, don't forget the sunscreen and UV-blocking sunglasses or goggles – the sun glaring off white snow intensifies the damage to skin and eyes.
So, what else do you need to know to make your own backyard igloo? It is possible to build an igloo by yourself – but what fun would that be? It is also much safer to build with another person. If you are building in an urban setting there are some "don'ts" about which you should know. Avoid the piles of snow near parking lots, streets, driveways, etc., a plow driver could easily mistake an igloo for another pile of snow. You also don't want to build too close to parking lots, roadways, or driveways to avoid the possibility of car exhaust and carbon monoxide poisoning.
So, you have a safe spot picked out and a group of your friends/family. What else do you need?
Snow. You have to have snow to build an igloo (obviously). There are lots of different types of snow – which are beyond the scope of this blog. What you want for a good, strong igloo is sintered snow. Sintering is what happens when you compress snow into a snowball – it squashes the flakes, briefly melting the edges and then re-freezing into a snow mass. It also occurs when snow goes through melt and freeze cycles. Don't have sintered snow in your yard? Stomping the snow underfoot is one of the easiest ways to create the snow blocks you'll need for your igloo.
Now, what tools do you need? For the recreational igloo builder, ordinary tools will suffice. A carpenter's saw will work nicely to cut blocks of snow – but cutting snow will ruin the blade for much of anything else. Buy an old blade at a garage sale! A flat-handled show shovel – the kind used for clearing sidewalks and drives – works great (avoid the "pusher" type shovels). The ideal shovel is a grain scoop…
You are with your family and friends, have snow, are dressed in layers and have assembled your equipment. What's next?
Once you find a nice, flat area for your igloo, you'll need to size your igloo and flatten the floor. An igloo large enough for 2-3 people should have a diameter of at least 6 feet. Have ski poles? Plant one to use as the center and use the other to draw the circle around it. Or for more fun, have the tallest person in your group make a snow angel – that will give you approximately the right sized igloo for two people! Then if you all get together and stomp around inside the circle, you'll tromp down the snow into a nice foundation!
If you have sintered snow, take your saw and start cutting your blocks! Blocks need to be the same size and it is suggested they be about 18 to 24 inches long, 9 to 12 inches thick, and 12 to 18 inches tall.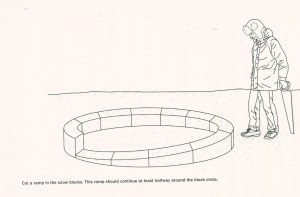 Don't have sintered snow? No worries, you can also use a clean bucket, or storage tub and pack the snow in that. When you turn it upside down you have your snow block! Got those ice blocks made? Time to start building that igloo! Place them, edge-to-edge, on your circle. Once you have the first layer made, you'll want to cut the blocks into a ramp which should go at least halfway around the block circle. Now you can begin stacking the blocks on the ramp base. You'll probably have to cut the edges of the blocks so they will fit tightly together. In order to form a stronger structure, you'll want to be sure the block bridges the seam of the two blocks beneath it.  It is helpful to have one person inside the igloo to help place and shape the blocks and to help place the cap block (or King Block) on the top of the igloo! The cap block has to be carefully shaped so it will support the inward leaning of the walls.
Yes, you have now enclosed one of your party inside the igloo with no way out! Making the entrance before the dome is  complete weakens the entire structure, so that part of the construction must wait. (Might be a good idea to make sure the person on the inside isn't claustrophobic!) There are a couple of options to consider when planning your entrance. One option is the "gopher hole." A gopher hole is basically building a tunnel under the wall of the igloo – an advantage is it helps keep the heat inside the igloo! The other option is a surface entry, which I suspect, is what we think of when we visualize an igloo. It is an arch-shaped entry cut into the side of the igloo. Using an arch shape helps reduce the stress on the shell of the igloo when creating a hole in the wall. It shouldn't be larger than 2'x2′ – just large enough to crawl through.
These are the basics of igloo building – be sure to check our resources before you start your own! Learn from the experts!
There are other types of snow shelters: quinzees (a hollowed out, dome-shaped mound of well sintered snow); slab shelters (looks like a pup-tent or A-frame); drift caves (similar to a quinzee – only in a hollowed snow drift); and spruce traps (using the umbrella of a spruce, pine, or other evergreen tree as a shelter). How to Build an Igloo and Other Show Shelters is a great source of information about these shelters and how to build them!
Be sure to check out Igloo : Contemporary Vernacular Architecture – it is an absolutely fascinating look at modern architecture and the influence the igloo has played!
Want to see the Guinness World Record holder for largest snow dome igloo ever built? Check this out!
Get outside! Get some fresh air! Get some great exercise! Build an igloo!
(I don't think you'll need to worry about a polar bear checking in on you!)
ENJOY!!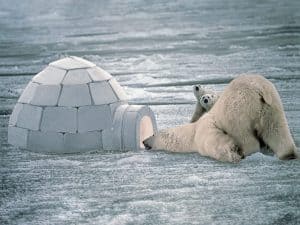 References:
Yankielun, Norbert E. 2007. How to build an igloo : and other snow shelters. New York : W.W. Norton. Engineering Library TH4890 .Y36 2007
Bahamon, Alejandro, Ana Canizares, editors. 2012. Igloo : contemporary vernacular architecture. Atglen, PA : Schiffer Publishing, Ltd. Engineering Library TH4890 .I35 2012
Other Resources:
Hewings-Martin, Yella. Jasmin Colllier, Fact Checker. Nov. 7, 2017. Why am I cold when nobody else is?  MedicalNewsToday.  Healthline Media UK Ltd.
National Film Board of Canada. Jan. 6, 2015.  How to Build an Igloo.  youtube.
How to Build An Igloo.  NOVA. PBS.
Igloo 101. arcticPassage.  NOVA Science Programming on Air and Online. Date assessed 12/06/17
Heid, Matt. March 1, 2012. Snow Sintering: How to Get Cohesive Snow for Building Snow Walls and Snow Shelters.  Appalachian Mountain Club; AMC.
Photo Credit: How to Build An Igloo.  NOVA. PBS.