Happy Thanksgiving! Have you ever thought about all of the intellectual property that goes into your Thanksgiving feast? From roasting ovens to catchy jingles, intellectual property is everywhere.
Have you ever gotten stuck on mashed-potato duty and just couldn't bring yourself to do all that boiling and mashing? This Automatic Mashed Potato System could be just the thing you're looking for! Just put in potatoes and water and this machine will boil, mash, and season the perfect spuds just for you. The potatoes will still need to be peeled by hand.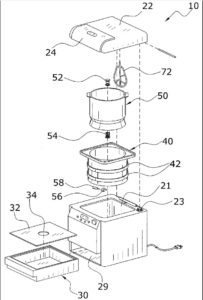 Remembering to baste the turkey while juggling the rest of the cooking can be difficult. This fancy roasting pan patented by Joseph Mathy in 1906 can help! Specially designed to encourage steaming, is pan will ensure your turkey stays moist while you're putting together the green bean casserole and sweet potatoes.
Have a safe and happy holiday!