Working on a group project? Finding it difficult to find a space to collaborate? Need a space where it is easy to share your ideas and information from your laptop?
We have just the space you need! We have 2 group study pods – and pod 1 is equipped with media:scape!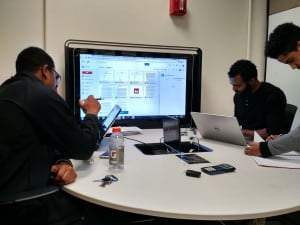 Media:scape is designed for easy collaboration – your group may connect up to 6 electronic devices. Each device is then able to send the info on their screens to the large-screen monitor. This allows your group to share documents, images, videos, or websites instantly. Connection cords are located in the "well" in the center of the table and each connection cord has a "puck" which will glow when it is properly connected.  Once your device is connected, you simply tap the puck and the information from your laptop is instantly displayed on the monitor. Being able to share your information so quickly and easily has obvious advantages when you are working on a group project. Each person is able to work individually and immediately share with the rest of the group. Being able to view all the group members' contributions can really enhance brainstorming and the the creative process.
The adapters which are needed to connect personal devices to the media:scape are available for check out at the circulation desk. A reservation sign-up sheet is posted on the window of each group study pod. Both group study pods are also equipped with a large whiteboard and dry erase markers are available at the circulation desk.
The combination of the media:scape and the whiteboard makes group study pod 1 the ideal space to work on that group project!