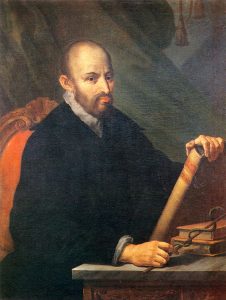 GIROLAMO MERCURIALE (1530-1606) De arte gymnastica libri sex. Apud Juntas 1587 3rd ed. 3, 308 [27] pp. illus. 23.6 cm .[The Art of Gymnastics, volume six in Latin].
Mercuriale, professor of medicine at Bologna and Pisa, is best know for this masterwork, first published in 1569.
De arte gymnastica was the first complete text on gymnastics and stresses the importance that all forms of exercise have in maintaining good health. Relying heavily on ancient practices, this work is an excellent compendium of physical therapy of earlier times. Mercuriale describes ancient gymnasia and baths and discusses mild exercises such as dancing as well as more strenuous pursuits such as wrestling and boxing. He gives consideration to the health benefits of proper exercise and concludes the book with a section of therapeutic exercises.
University of Iowa affiliates may view 1978 reprint version online
An English translation of this book can be found in De arte gymnastica. Critical edition by Concetta Pennuto; English translation by Vivian Nutton. Latin and English on facing pages; critical matter in English or Italian. Firenze: L.S. Olschki, 2008. ISBN: 9788822258045; 8822258045. University of Iowa affiliates may request this title via Interlibrary Loan.
Thanks to Emeritus Professor Paul Greenough for suggestions to add translation information to the newsletters.
Like the rest of the University of Iowa Libraries, the John Martin Rare Book Room and the Hardin Library for the Health Sciences are physically closed. Much of Hardin Library's current collection is available online, and Library staff continue to work virtually, assisting our users by email, Zoom, and other electronic means.
We are also mailing physical books to our users, when possible. These circumstances mean that the Rare Book Room's collection is currently unavailable, although we encourage you to explore the digital exhibits, illustrations, and books available through the website at http://www.lib.uiowa.edu/hardin/rbr/
Thank you for your support and interest in the John Martin Rare Book Room.