by Damien Ihrig, MA, Curator John Martin Rare Book Room
MÜTTER, Thomas Dent (1811–1859). A report on the operations for fissures of the palatine vault. Printed in Philadelphia by Merrihew & Thompson, 1843. 28 pages. 23 cm tall.
The Mütter Museum in Philadelphia is celebrated for its collection of anatomical specimens of rare conditions, from the famous (and infamous), as well as medical instruments. The museum was founded with an original donation from the collection of Thomas Dent Mütter.
Mütter was born in 1811 in Richmond, Virginia. Sickness is a common theme in Mütter's life and he lost both of his parents by the time he was eight. He was raised by a distant relative in a seemingly supportive environment.
Money left to him by his parents allowed him to attend Hampden-Sydney College in Virginia and medical school at the University of Pennsylvania. Mütter himself fell ill during medical school. He left for Europe after graduation in the hopes of improving his health in a different climate and to further pursue his medical education.
In Paris, he worked with the aforementioned Dupuytren, and in London with Robert Liston. Mütter eventually put together a collection of lectures by Liston, which he annotated with 250 pages of his own.
Dupuytren was known for his exacting nature and Liston for his speed when performing a surgical procedure (which could mean the difference between life and death in the days before anesthesia and antibiotics). Mütter seems to have embraced the teachings of both his mentors, stressing the need for the simplest of tools and techniques when performing his reconstructive surgeries while trying to keep the pain and blood loss to a minimum.
In 1841, he joined the faculty of the Jefferson Medical College in Philadelphia. It was there that he made a name for himself as an excellent speaker and engaging teacher. He used his ever-expanding anatomical and instrument collection to provide his students with hands-on experience.
Unfortunately, his ill health never truly subsided and he was forced to retire in 1856. He died three years later at the age of 48.
A report on the operations for fissures of the palatine vault demonstrates Mütter's adherence to his surgical principles. It is not a long book, only 28 pages, but it provides insight into his process and surgical philosophy. It includes several small illustrations of the steps of the procedure and the instruments used, examples of which you can see above.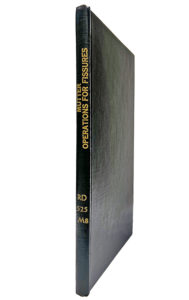 The book is covered in a "library binding" of black cloth and the textblock shows evidence of having been trimmed (see the ownership mark in the upper right corner of the title page above). Indeed, this book was at some point pulled from the circulating Hardin collection and added to the Rare Book Room collection. It still contains the date due slip (last checked out in 1967!) and barcode sticker.
The spine shows a stamped and gold painted title and Library of Congress call number. Although there is some staining on the first and last pages, likely from the glue of a previous binding, the paper is in excellent condition.
Contact me to view this tiny but mighty book or any others from this or past newsletters: damien-ihrig@uiowa.edu or 319-335-9154 to arrange a visit in person or over Zoom.
Read more on the history of books about cleft palate repairs in the July 2022 newsletter.
Individuals with disabilities are encouraged to attend all University of Iowa-sponsored events. If you are a person with a disability who requires a reasonable accommodation in order to participate in this program, please contact our office in advance at damien-ihrig@uiowa.edu or 319-335-9154