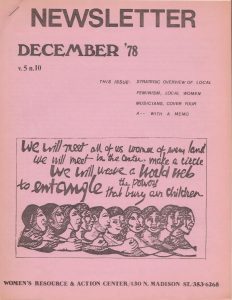 "We will meet all of us women of every land. We will meet at the center, make a circle. We will weave a world we to entangle the powers that bury our children." — cover art for WRAC's December 1978 newsletter
Iowa City's Women's Resource and Action Center (WRAC) opened in 1971 as a place for women to meet about and organize around issues that mattered to them. With support from the University, members of WRAC hosted a rape crisis line, formed anti-racism organizations, and kept track of local LGBT friendly businesses and housed dozens of discussion and support groups for women from all walks of life.
WRAC published monthly newsletters for Newsletters frequently included schedules for women's events in town, notices for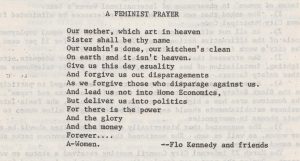 for discussion and support groups, and opinion pieces on issues important to women. Newsletters also frequently included feminist poetry, such as "A Feminist Prayer," printed in a 1975 issue.
WRAC, still on the UIowa campus, recently moved to a new, bigger location. If you would like to tour WRAC, it will be hosting a reception this Friday, July 14th, at 6pm as a part of the Iowa City Feminist Reunion.