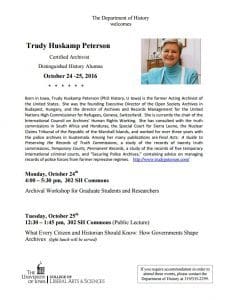 From October 24th – 27th Trudy Huskamp Peterson, the former Acting Archivist of the United States, and Jane E. Schultz, Professor of English and Medical Humanities at Indiana University-Purdue University-Indianapolis, will visit the University of Iowa.
A longtime friend of the Iowa Women's Archives, Trudy Huskamp Peterson has made an international career of archives and human rights. Besides serving as the United States' Acting Archivist, Peterson has consulted with truth commissions in South Africa and Honduras and worked for three years with the police archives in Guatemala. She is currently the chair of the International Council on Archives' Human Rights Working.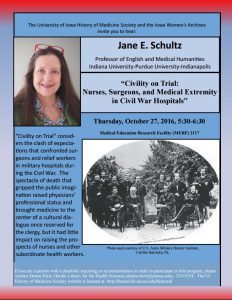 On Monday the 24th Peterson will host an archival workshop for graduate students and researchers from 4:00 – 5:30 in 302 SH Commons. She will follow this on Tuesday the 25th with a public lecture entitled "What Every Citizen and Historian Should Know: How Governments Shape Archives." The lecture will take place in 302 SH Commons from 12:30 – 1:45 and will include a light lunch.
Finally, on Thursday the 27th, the Universty of Iowa History of Medicine Society and the Iowa Women's Archives will jointly present Jane E. Schultz. Schultz, a professor at Indiana University-Purdue University-Indianapolis, formerly consulted for the PBS miniseries "Mercy Street" and has written extensively about women and the Civil War. Her lecture "Civility on Trial: Nurses, Surgeons, and Medical Extremity in Civil War Hospitals will take place in the Medical Education Research Facility (MERF) 2117 from 5:30 – 6:30.
Hope to see you there!