George Nissen was born in Blairstown, Iowa, in 1914 and moved to Cedar Rapids as a child. It was at the local YMCA that he would learn both tumbling and diving. In 1930, 16-year-old Nissen attended a circus performance where he saw acrobats falling onto safety nets, finishing their descents with somersaults. Nissen considered the opportunities for gymnasts like him using a similar apparatus. Over the next few years, he would create a few prototypes using materials he could find, including iron from the local scrapyard and his own bed.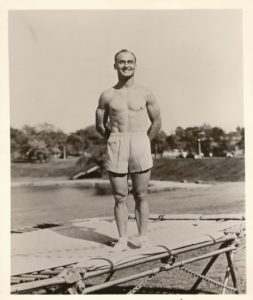 Nissen brought his athletic and academic skills to Iowa City and the University of Iowa. He graduated in 1937 a bachelor's degree in business administration. During his time at school, he was an active member of the Pi Kappa Alpha fraternity, a three-time NCAA gymnastics champion, and participated in the annual Dolphin Shows – aquatic showcases that featured divers and acrobatics. Upon graduation, Nissen and two of his friends joined forces as a traveling acrobatic group, utilizing Nissen's trampoline as part of their act. The Three Leonardos, as they were known, ended their touring when Nissen joined the Navy to fight in World War II.
Nissen would receive the patent for his "Tumbling Device" on March 6, 1945, for which he would later register the trademark "trampoline," inspired by "el trampolin," Spanish for "diving board." He then got to work using the knowledge from his time at Iowa to market his invention. Some of his first buyers were the United States military and NASA, who used it as a tool to train pilots and astronauts to quickly adapt to changing orientations. Working with Scott Carpenter, a pilot who would later become an astronaut, Nissen created a game called "Spaceball." Check out this short video to see this fun sport that combines elements of volleyball, basketball, tumbling, and other sports.
The trampoline's popularity would soon explode, and soon it was both exercise and play equipment. In the 1960s, trampoline parks began to spring up, similar to those that have gained popularity in the past few years. However, these quickly gained a reputation for being dangerous, which Nissen blamed on poor training of the users, staff, and owners, and discouraged this kind of use. In 1962, the International Gymnastics Federation recognized trampolining as an official sport, but it wouldn't be until the Sydney Olympic Games in 2000 that it would become an Olympic sport. Nissen, who at the time was 86, was present to see the sport he had created bounce onto the largest stage imaginable, and was even invited to jump on the Olympic trampoline.
Nissen passed away in 2010 at the age of 96. He had spent his entire life advocating for his invention and building a company rooted in passion, and today trampolines are as popular as ever, both in the backyard and the gym.
Works Cited
Covington, A. (2021, July 30). The Bizarre and Utterly American History of Trampolining – the Olympics Most Airborne Sport. Esquire. https://www.esquire.com/sports/a37182930/tokyo-olympics-trampoline-trampolining-history-101/
George Nissen. (n.d.). Lemelson-MIT. https://lemelson.mit.edu/resources/george-nissen
Hevesi, D. (2010, April 13). George Nissen, Father of the Trampoline, Dies at 96. The New York Times. https://www.nytimes.com/2010/04/13/us/13nissen.html
Kindy, D. (2020, March 5). How the Trampoline Came to Be. Smithsonian Magazine. https://www.smithsonianmag.com/innovation/how-trampoline-came-be-180974343/
Time Machine: George Nissen, trampoline inventor. (2016, September 10). The Gazette. https://www.thegazette.com/news/time-machine-george-nissen-trampoline-inventor/
University of Iowa. (1937). University of Iowa Hawkeye Yearbook, 1937. Student Publications, Inc.