Did you know that you can change the color of a hydrangea from pink to blue? The color of the hydrangea bloom depends on the alkalinity or acidity of the soil! The hydrangea is blue when the soil is very acidic and pink when the soil is only slightly acidic.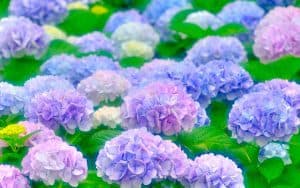 Water-soluble pigments, called anthocyanins, are responsible for the color. They appear blue when stacked together and pink when they are farther apart. But, aluminum is actually responsible for the changing colors of hydrangeas – it becomes more soluble in acidic soils, which is more readily absorbed by plants and this allows the anthocyanin molecules to move closer together. To maintain a blue hydrangea bloom, the soil pH should ideally be between 5.0 and 5.5. Soil pH for a pink Hydrangea is 6.5 to 7.0. If the soil is more acidic, limestone may be added to increase the alkalinity.
For more information about anthocyanins, aluminum and the chemistry of soil, check out  Chemistry in the Kitchen Garden and The Chemistry of Soils. For specifics on how to change the color of your hydrangeas, check out Hydrangeas: How To Change Color from Pink to Blue!
Okay. We know that the color of a hydrangea bloom can be altered by changing the pH levels in the soil. But, what IS pH? The definition in the glossary of Soil Science Simplified is "… the degree of acidity or alkalinity. The hydrogen potential expressed by a set of negative logarithmic values whereby numbers less that 7.0 signify acidity and numbers greater than 7.0 signify alkalinity. pH 7.0 is neutral, that is, neither acid nor alkaline."
The pH of the soil has a direct effect on the availability of metal ions which plants need. The metal ions are extremely important in the availability of nutrients for developing root systems.  For example, a low soil pH (below 5.0) can produce aluminium and manganese toxicity, which obviously, has a negative impact on the health of plants. For more information on the chemical characteristics of soil, check out the "Chemical Characteristics" section of Soil Science Simplified.
Composting your yard and garden can help you regulate the pH balance. For some basic information on composting, check out our April 24, 2017 blog. Looking for a resource to tell you what plants require what pH? Check out the Farmer's Almanac.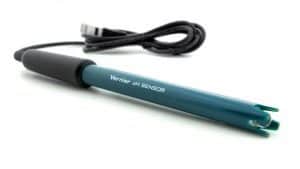 Wondering how to find out how to test your soil for the pH levels? Check the LabQuest pH Sensor out from our Tool Library! It comes with the sensor, a Electrode storage bottle (containing pH 4/KC1 solution) and the user manual. It has automated data collection, graphing, and data analysis and can be used for soil sampling, water quality in streams and lakes,  and even chemical reactions in an aquarium!
Look back at the history of measuring the pH levels with "Standardization of pH Measurements Made with the Glass Electrode." Dated August 10, 1950, it states: "…the development of the glass-electrode pH meter brought hydrogen-ion measurements out of the laboratory and put them to work in all phases of commerce and industry…" The advent of the pH measurement probe changed the way in which pH was viewed. Check out TRAIL (Technical report archive & image library) for digital access to federal technical reports issued prior to 1975.
Measure the pH in your soil, then explore how to change and improve it! Your garden, whether veggie or flower, will be more lush and productive!
Resources:
Eash, Neal S. (and others). 2008. Soil science simplified. Ames, Iowa : Blackwell Pub.  Engineering Library S591 .H28 2008
Hanson, James Ralph. 2011. Chemistry in the kitchen garden. Cambridge, UK : RSC Pub. Engineering Library QK861 .H332 2011
Caldwell, Brian. 2011. Growing healthy vegetable crops : working with nature to control diseases and pests organically. White River Junction, VT : Chelsea Green Pub. Engineering Library SB608.V4 C35 2011
TRAIL (Technical report archive & image library). "A collaborative project to digitize, archive, and provide persistent and unrestricted access to federal technical reports issue prior to 1975. Center for Research Libraries : Global Resources Network.
Slatalla, Michelle. May 10, 2016. Hydrangeas: How to Change Color from Pink to Blue. Gardenista . Move Sales, Inc.
The Dirt. Q&A: Some flowers can change color. Fine Gardening.  Taunton Press, Inc. Date Accessed: June 16, 2017
Soil pH Levels for Plants.Yankee Publishing, Inc The Old Farmer's Almanac.
Other Resources:
Gilliman, Jeff. 2008. The truth about organic gardening : benefits, drawbacks, and the bottom line. Portland, OR : Timber Press. Engineering Library SB453.5 .G54 2008
Hydrangea Photo Credit:
Nishizawa, Amelie. June 6, 2016. A Japanese Word for June: Tsuyu.  Cato Language Academy.