3D printing has gained popularity in the past decade, with printers becoming cheaper and more accessible to the consumer market. It has allowed users to take manufacturing into their own hands with several advantages over traditional manufacturing. Read all the way to the end to find out how you can learn the ins and outs of printing through the Engineering Library.
The Basics
3D printing is a form of additive manufacturing. As the name would suggest, this means that items are created by building up material. The computer programs involved take the digital model the user has created and "slice" it into horizontal pieces. The printer then takes these slices and prints them one on top of the other, building the item.
Consumer-grade printers usually print using thermoplastic graded according to the machine being used. The filament (1) is heated in the machine (2) and fed out through the nozzle (3) to build layers on the print (4) which starts on the build plate (5). Plastic is the most common, but some printers can use glass, ceramic, chocolate, and even biological tissue!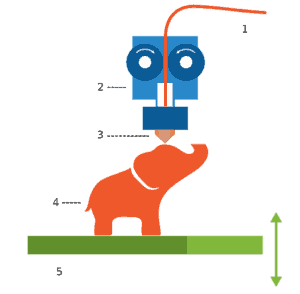 Software
Advanced training in CAD software is no longer necessary to create your own 3D prints. Software like TinkerCAD and 123D Creature are specifically developed for ease of use. Not interested in making your own? You can download print files from a variety of websites, such as Thingiverse. The maker of your 3D printer may also have their own online repository, so be sure to check the major brand websites.
Printers
Consumer-Level 3D printers come in many different forms, and choosing the right one for you depends on what you are planning to print. For most home printing, a standard cartesian printer will work just fine. However, there are other options. Delta-style printers have small footprints, so they take up less space, but are also limited in their print capacity. If you wanted to go really overboard, you could look into a new innovation, a printer with a conveyor belt in place of the printing plate. This innovation allows for "infinite" printing. This means you could leave your printer to complete a multi-part print and not have to return and reset it as each piece finishes, or you could more easily print very long items, like swords or staffs. Of course, there is no need to buy a printer at all. Many public libraries now have 3D printers that can be used, or you can submit your files to be created by the printers at the Engineering Electronics Shop.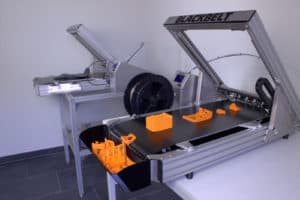 Learn & Create Workshops
Learn about 3D printing from the experts with our Learn & Create 3D Printing Workshop Series. Taught by Andrew Delgado from the 3D Print Club, the first class will cover the use of design software, and the second will focus on running the printers. More information is below. Visit our website to save your spot today!
October 6, 1:30 pm, Engineering Library Creative Space (2001C SC) – 3D Printing Designing
Want to learn how to use a 3D printer, but not sure how to get started?  Learn the basics of 3D Design and Modeling in this step-by-step workshop.
October 13, 1:30 pm, Engineering Library Creative Space (2001C SC) – 3D Printing Operating the Printer
Have you ever wondered how 3D printers work? Join us and learn how to use slicing applications and the basics of operating a 3D printer.