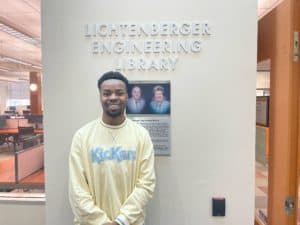 We're at that time of the year again and its time to wish our graduating student workers happy trails. This semester we have only one graduate: Jide Babawale.
Hometown: Hazel Crest, IL
Major: Chemical Engineering
How long have you worked at the Engineering Library? Since the beginning of my Junior year, so for about four semesters.
What are your plans after graduation? Work as a reliability engineer for Abbott in Columbus, OH
Do you have any advice for new students? Get involved early and step out of your comfort zone.
What's a fun fact about yourself? I've read the whole Harry Potter series six separate times.
Good luck Jide and thank you for all your hard work!