Today we're celebrating National Girls and Women in Sport Day! Since it was inaugurated in 1987 by a Presidential Proclamation, NGWSD has recognized the on and off-field achievements of female athletes, from girls active in school and community sports to elite international athletes.
[side note–if you're not already following our #WPAscrapbook project about a 1930s Work Project Administration photographer who documented women's recreation at the University of Iowa, join us in February as we document this exciting find]
Many of our collections at the Iowa Women's Archives highlight women's achievement in sport, from stand-out athletes like Janice Beran to ground-breaking athletic administrators like Christine Grant and N. Peg Burke. Or you can learn about the University of Iowa's Department of Physical Education for Women and local professional team the Iowa Cornets.
But February is also Black History Month, and opening ceremonies for the 2018 Winter Olympics kick off this week, so we wanted to share materials from the Nadine Domond Papers, which were donated by Domond in 2001. Check out our Twitter and Tumblr channels for more objects from the Domond Papers.
A Connecticut native and the top-ranked guard in the country, Domond made headlines in 1994 when she chose to play basketball at the University of Iowa.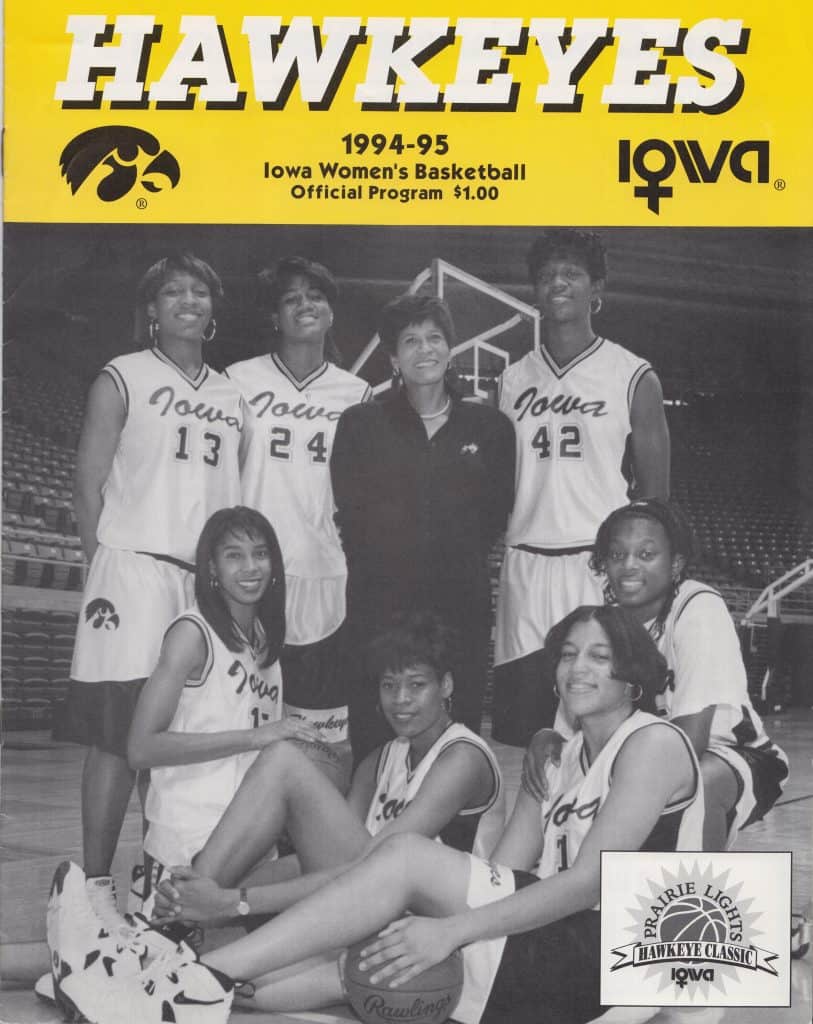 In her freshman season (1994-1995), Domond played on the last team coached by legendary women's basketball coach C. Vivian Stringer during her time at the University of Iowa. For the next three years, under head coach Angie Lee, Domond and the Hawkeyes won a Big Ten Championship and made it to the 1996 NCAA Tournament's Sweet Sixteen round.
During this time, Domond also played for various USA Basketball teams, including the squad that won the silver medal in the 1997 Jones Cup. Domond graduated from the University of Iowa in 1998 with a degree in African American World Studies and Instructional Design. As of 2017, Domond held the number five spot in all-time Hawkeye women's three-point shooting.
Domond was the nineteenth-overall pick in the Women's National Basketball Association's (WNBA) 1998 draft, which was the WNBA's second draft.
After a professional career overseas, she because the Head Coach for Grambling State's women's basketball team before joining longtime-Iowa coach Vivian Stringer at Rutgers University, where Domond now works as an Assistant Coach.
Thank you, Nadine, for letting the Iowa Women's Archives be part of sharing your story and amazing accomplishments. And as we get ready to kick off another Olympic Games, we'll let Nadine have the last word.
Let's gooooo!!! 💃🏾💃🏾💃🏾 pic.twitter.com/aQe9vNA6KF

— Nadine Domond (@NadineDomond) November 8, 2017