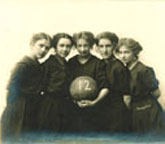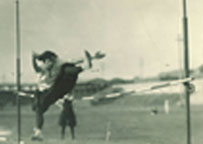 Celebrate Women's History Month with the Iowa Women's Archives
In collaboration with the UI Council on the Status of Women, IWA will welcome Susan Birrell for a talk and Janet Schlapkohl for a dramatic reading on Thursday, March 28 starting at 4pm in the Iowa Women's Archives (3rd floor south of the Main Library).
University of Iowa is a recognized leader in women in sport and physical education. Four years ago, the University of Iowa Libraries celebrated that legacy by digitizing a collection of the UI Department of Physical Education for Women. Below is more information about this remarkable digital collection.
Almost 1000 historic photographs of University women's physical education classes – from archery and synchronized swimming to basketball and dance – are now publicly available online. In celebration of Women's History Month, the University of Iowa Libraries has released the UI Department of Physical Education for Women digital collection.
The photographs, spanning almost 100 years (1906-2004), are part of a larger manuscript collection that documents the rise of women's athletics at Iowa from the one-member Department of Physical Culture and Athletics to the dawn of women's intercollegiate sports. The Department of Physical Education for Women at the University of Iowa was a pioneer in the development of graduate study and professional training as well as athletic opportunities for women.
"These photographs offer a fabulous window into women's sport—and campus life—over the past century. They're very appealing, from the expected team portraits and sports action shots to the more surprising images of laboratory experiments, rifle enthusiasts, and slumber parties," says Kären Mason, Curator of the Iowa Women's Archives. "The digital collection provides easy access to these photos, and I hope it will inspire people to explore the equally fascinating records of the Department of PE for Women that are available in the archives."
Intercollegiate athletics for women at The University of Iowa originated in the Department of Physical Education for Women in the late 1960s and early 1970s and maintained that association until 2000. This relationship stemmed from the philosophy of the women physical educators and the value they placed on education and women-centered and -controlled sport.
"Those two key, related notions are still at the heart of the current Department of Health and Sport Studies: that sport and physical activity should be part of a liberal arts education and that they can contribute greatly to both individual well-being and the social good," says Catriona Parratt, Associate Professor in the Department of Health & Sport Studies. "We are delighted that the Iowa Women's Archives digital photographic collection will make it easier for many more people to appreciate this aspect of the University's mission."
This historic image collection is the latest edition to the Iowa Digital Library which contains more than 225,000 digital objects, including photographs, maps, sound recordings and documents from libraries and archives at the UI and their partnering institutions as well as faculty research collections.
To explore the vast digital holdings from the Iowa Women's Archives, a portal that allows users to browse by subject, time period or artifact type is available online at http://digital.lib.uiowa.edu/iwa . It will be continually updated with new items drawn from the IWA's 1100 manuscript collections, which have provided valuable primary source materials for books, articles, theses and class projects on women's history.
For more information about the collection, contact Kären Mason, Curator of the Iowa Women's Archives, at 335-5068.