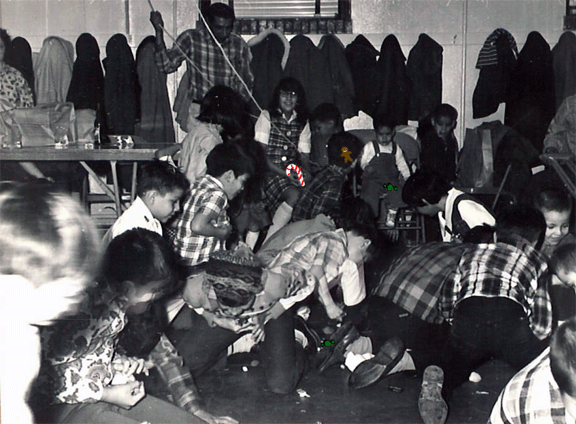 Women's History Wednesday:
As part of its project to document the history of Iowa Latinas and their families, the Iowa Women's Archives preserves and makes accessible the records of the LULAC (League of United Latin American Citizens) Council 10 of Davenport, Iowa.
Mexicans arrived in Iowa as early as the 1880s, and by the 1920s boxcar communities had grown up near railroad yards in towns such as Fort Madison, Davenport, and Bettendorf. During the mid-20th century, second- and third-generation Mexican Americans fought for civil rights through organizations such as Davenport's LULAC Council 10, founded in 1959 and still going strong today.
Pictured here is a LULAC Christmas party from the early 1960s, showing a blend of traditional activities such as pinata games alongside an early example of what has become an internet phenomenon — the "Scared of Santa" photo.
Iowa Digital Library: Mujeres Latinas Digital Collection
Iowa Women's Archives: Guide to the LULAC Council 10 records
Iowa Women's Archives: Mujeres Latinas Project
*This post is duplicated from the Iowa Women's Archives Tumblr.