This post by Kären Mason, Curator of the Iowa Women's Archives, was originally written for Akashic Books.
Chautauqua was an eagerly anticipated event in towns across the United States in the early 20th century. Huge tents were erected and a variety of speakers, performances, and children's activities took place over the week the Chautauqua was in town. Red Oak, Iowa even constructed a permanent Chautauqua Pavilion in 1907, which is still standing and reputed to be the largest covered pavilion west of the Mississippi.
Many women lectured or performed on the Chautauqua circuit. Some, like Marian Elliot Adams, the main character of Unmentionables, lectured on women's reform issues. Women's suffrage was a popular topic in the years leading up to 1920, when the 19th Amendment at long last gave women the vote. Chautauqua provided an important venue for reformers to reach audiences all across the country.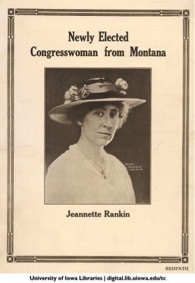 Jeannette Rankin (1880-1973) became an ardent suffragist while in high school and served as a field secretary for the National American Woman Suffrage Association after college. She advocated for suffrage and other reforms as a Chautauqua lecturer and was billed as "a fluent speaker sure to interest her audiences." In 1916 she became the first woman elected to Congress, only possible because Montana had granted its women the right to vote in 1914.
While Jeannette Rankin and the fictional Marian Elliot Adams were very serious about promoting women's issues on the Chautauqua stage, other women viewed Chautauqua as a lark. During the summer of 1926 Abbie McHenry (Romey) (1905-1994), a University of Iowa student, performed throughout the Midwest with five other students known as the Metropolitan Players. "Most of the audience turned its applause to Abbie Ann," wrote a reporter in Greensburg, Indiana, charmed by the winsome lass he called "Amiable Abbie Ann." She recorded the summer's travels in a diary and scrapbook, now in the Iowa Women's Archives.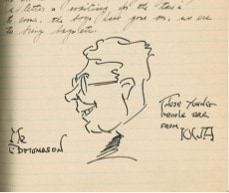 Abbie Ann McHenry's sketch of the
platform manager in Kokomo, Indiana,
July 12, 1926.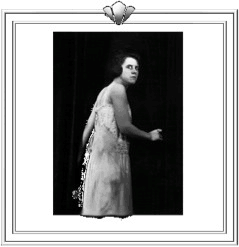 Katharine La Sheck
For Katharine La Sheck (1891-1971), who had grown up in Iowa City, Iowa, Chautauqua offered a venue for showcasing her musical and theatrical talents. From 1911-1920 she performed with The College Girls and the Marigold Quartette, singing, acting, dancing, and playing musical instruments. Booked by the Redpath Chautauqua, the College Girls travelled to Panama in 1913 and 1914 to entertain Americans working on the canal, and performed on the cruise ships of the United Fruit Company Steamship Service.
The Marigolds let their hair down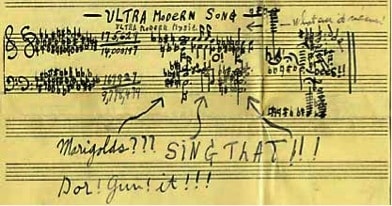 And have fun with some fellow travelers.
To learn more about Chautauqua, visit the website Traveling Culture: Circuit Chautauqua in the Twentieth Century.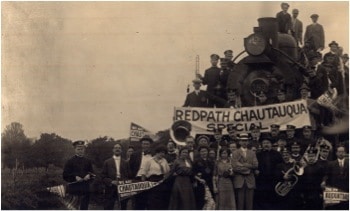 All photographs from the Iowa Women's Archives and Department of Special Collections, University of Iowa Libraries. Do not reproduce without permission. Contact the Iowa Women's Archives at lib-women@uiowa.edu or the Special Collections Department at lib-spec@uiowa.edu.