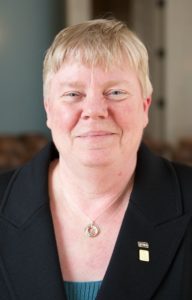 Sharon Tinker was born in 1958 in the small town of Manchester, IA. Her father was a farmer and her mother was a homemaker. During her childhood, she was a very active participant in her local 4H club, learning about a range of topics from food safety to photography. When asked in elementary school what she wanted to be when she grew up she said that she was interested in becoming a schoolteacher, a cowgirl, or a nun. Tinker graduated from West Delaware High School in 1976.
She chose to attend the University of Iowa to pursue a degree in chemical engineering. She excelled during her time here, being on the Dean's List her sophomore year. She also participated in several activities including Associated Students of Engineering, the Engineering Open House Committee, the Society of Women Engineers, and the University of Iowa Radiation Protection Committee. When she graduated in 1980 she was interested in finding a management position with special interests in process engineering, production, research, and development.
After graduation, Tinker found a job as a Performance Chemicals Engineer at Exxon. She has stayed with that company, moving from Texas, to Louisiana, and all the way to Singapore as part of her many assignments. She has been recognized for her accomplishments, receiving many awards including the ExxonMobil Chemical Responsible Care Award, the ExxonMobil Chemical Global Manufacturing Award, and the Young Engineer of the Year Award from the Texas Society of Professional Engineers. She has stayed connected with the University of Iowa, establishing the Sharon K. Tinker Process Safety Professor of Chemical and Biochemical Engineering, which is currently held by C. Allan Guymon. She was inducted into the College of Engineering's Distinguished Engineering Alumni in August of 2020.
Works Cited
Sharon Tinker papers, Iowa Women's Archives, The University of Iowa Libraries, Iowa City.
University of Iowa College of Engineering. (n.d.-a). Sharon K. Tinker Process Safety Professorship in Chemical and Biochemical Engineering. College of Engineering – The University of Iowa. https://engineering.uiowa.edu/college/faculty-and-staff/college-engineering-awards/chairs-and-professorships/sharon-k-tinker
University of Iowa College of Engineering. (n.d.-b). Sharon Tinker. College of Engineering – The University of Iowa. https://engineering.uiowa.edu/alumni/awards/honor-wall/distinguished-engineering-alumni-academy-members/sharon-tinker
University of Iowa College of Engineering. (2016, November 30). Engineering Alumna Tinker to Receive Dean's Award for Distinguished Service. College of Engineering – The University of Iowa. https://engineering.uiowa.edu/news-all/2016/11/engineering-alumna-tinker-receive-deans-award-distinguished-service