Poster Creation!
Tuesday, March 10th; 5:00 PM

Engineering Library Creative Space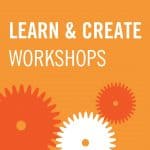 The Research Open House is coming up on April 2nd! Do you want your poster to stand out? Do you want it to clearly explain your research? Your poster can engage the audience and invite dialogue!
The workshop will help you to think about who the prospective audience is, and what the poster content should be. You'll also learn about design considerations involved in the layout of a poster.
Taught by Bree Neyland, Speaker Center.
It is a FREE workshop, but space is limited, so be to register today!! Visit our Learn & Create website to see what workshops are coming up! You don't want to miss out!!
Individuals with disabilities are encouraged to attend all University of Iowa-sponsored events. If you are a person with a disability who requires a reasonable accommodation in order to participate in this program, please contact Kari Kozak at kari-kozak@uiowa.edu in advance of the event.