Frederic Goodson Higbee
Professor & Head of Engineering Drawing
1905 – 1952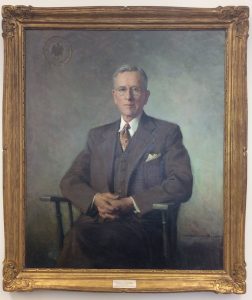 We, here in the Engineering Library, are very happy to have the portrait of Frederic Goodson Higbee back home again! The portrait of Professor Higbee has spent the last 11 months at the Conservation Center in Chicago for extensive restoration.
Professor Higbee was inducted into the College of Engineering Alumni Awards Wall on June 7, 2008. His plaque display reads:
The fundamentals of engineering drawing are almost synonymous with Professor Higbee. Transcending three generations of graduates from The University of Iowa, he is renowned for contributing significantly to the philosophy and technique of teaching engineering students –using engineering drawing as a basis and medium for developing young minds. Consequently, he was the first to be honored with the Engineering Drawing Award from the American Society for Engineering Education. Admirably known on campus as one of President Walter A. Jessup's "Four Horsemen," Higbee's critical advice and counsel helped The University of Iowa regain its position among Big Ten institutions earlier in the 20th Century.
Frederick Goodson Higbee was born in Fremont, Ohio, in 1880. He graduated from Kenyon Military Academy in 1898, and the Case School of Applied Science in 1903, with the degree of Bachelor of Science in Mechanical Engineering. In 1905 he became a professor and head of Engineering Drawing at the State University of Iowa. He was here until 1952. His work included power station construction, building construction, railroad construction, and municipal engineering.
The portrait hanging in our library was painted by Harold Brett, an American illustrator and painter known for his New England scenes and for his portraits. His illustrations have been featured in Harper's Weekly, Collier's Weekly, and the Saturday Evening Post. He painted Professor Higbee's portrait in 1952.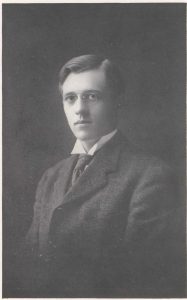 Stop in and welcome Professor Higbee home!
Ruff, Edward J., Editor in Chief.
Our New Professors,"
The Transit
.
1906, volume XI. University of Iowa.