National Library Week! April 7-13, 2019!!
National Library Week is an annual celebration highlighting the valuable role libraries, librarians, and library workers play in transforming lives and strengthening our communities. This year's theme, Libraries = Strong Communities, illustrates how today's libraries are at the heart of our cities, towns, schools and campuses, providing critical resources, programs and expertise.
In the 1950s, research began to show that Americans were spending less time reading and more time with television and radio. ALA and American Book Publishers formed a nonprofit organization called the National Book Committee. In 1957, they developed a plan for National Library Week and the first was observed in 1958 with the theme "Wake Up and Read!" National Library Week was observed again in 1959 and it was then decided to make it a yearly event. ALA took over full sponsorship in 1974 when the National Book Committee disbanded.
Do you know how much your Engineering Library has to offer?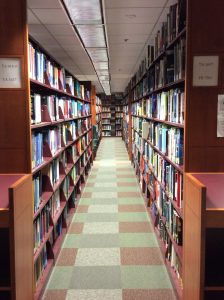 Books! We have books! Our lower level is home to over 50,000 books! We also have access to 5,000 electronic journals, and over 175 tools!
On or off-campus, you have access to multiple databases, including Web of Science and Compendex. Compendex is the most comprehensive bibliographic database of scientific and technical engineering research available, covering all engineering disciplines. It includes millions of bibliographic citations and abstracts from thousands of engineering journals and conference proceedings. When combined with the Engineering Index Backfile (1884-1969), Compendex covers well over 120 years of core engineering literature. And that is just one of the available databases!
That's a lot of information to sift through. Where do you even start? We have resource/subject guides related to specific departments or resources. Looking for information on patents or biomedical engineering? We've got the subject guides to help you get started. Still at a bit of a loss? Come to us for personal assistance! From locating resources within the library to demonstrations on resources and services for individuals, classes or groups, we can help.
What is a research project or paper without Standards or Patents? We have electronic access to standards from various agencies, including International Standard Organization (ISO), American National Standards Institute (ANSI), ASTM International and many others. You also have access to the patents from many different countries – all available electronically!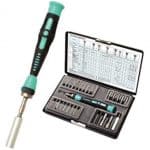 Sometimes you need more than books and articles for an assignment or project. Do you need a light meter, sound meter, or wrenches, pliers and screwdrivers for that project? We have them! We also have laptops, iPads, computer cables and chargers, Oculus Rift, calculators, and more! Check out all the tools are available in our Tool Library!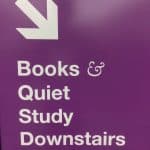 Need a place for group study? Quiet study? We've got you covered there, too! The lower level is a dedicated quiet space, with study carrels, comfy chairs, beanbag chairs and gamer chairs! We have two group study pods which you can reserve for working on those group projects! And, we've got the Creative Space! The Creative Space has 3D scanning, a virtual reality station, computer stations with collaboration tables, prototyping, large white boards – the perfect place to work on a group project!
Have questions? You can live chat with engineering library staff from our homepage, just click on the "ASK US" LINK! There is also a form which allows you to send us a message! Kari Kozak, Head, Lichtenberger Engineering Library (kari-kozak@uiowa.edu), and Qianjin (Marina) Zhang (qianjin-zhang@uiowa.edu), Engineering & Informatics Librarian, are also happy to help with consultations and questions!
Celebrate National Library Week by stopping in and discovering your Engineering Library!
Resources:
National Library Week. American Library Association. ALA. Date Accessed: April 4, 2019.