It's the holiday break. You've opened presents, eaten, napped, and now what?
How about some fun DIY projects and crafts?
Maybe start out with something from The Star Wars Craft Book. Want to start with a holiday-themed craft? How about a Hanukkah Droidel? The appendix comes complete with the Droidel pattern (it also has patterns for many of the other crafts including Yoda finger puppet dolls and, yes, even a Jar Jar Binks Jedi Mind Trick Doll pattern!) There are instructions for a Ewok Fleece hat, an R2-D2 crocheted beanie, an AT-AT Herb Garden, and even a Jabba the Hutt body pillow!
Ever dreamed of being a pioneer? Make: Like the Pioneers will take you through a "typical" day for a pioneer would have been! From the morning, which might include a bow drill to help you master fire, or what could be more fun that making bacon soap? Or learn to make apple cider right at your kitchen table! Learn to turn your junk mail into home made paper – your own personal stationery! In the afternoon you could learn to do some woodworking and make a "fool's stool." (The Fool's Stool instructions use table saws and wood glue – so you've got an advantage over the pioneers!) There is also a section of full-color photos to teach the art of lashing! With some practice you could make a lookout tower! Think the evening is for rest? Well, a pioneer would no doubt be pickling grapes and beets or roasting pumpkin seeds. So, night calls for making an oil lamp, to keep the darkness at bay!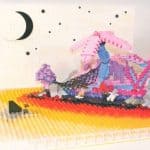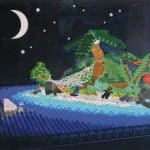 Maybe you are more into LEGO® building and would like to try something more elaborate than usual…. The Art of LEGO Design : Creative Ways to Build Amazing Models can help you do just that! It has chapters that include inspiration, how to work with colors, shapes, sizes, and scales! It helps you make the perfect work space and takes you through the essential elements. The chapters include Wildlife & Foliage, Large-scale Figures, Cars, Wagons, & Watercraft, Buildings, and Science Fiction. You'll certainly find something that will spark your creativity!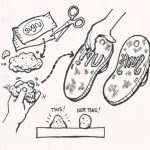 Are you spending your holidays at the beach? How about making some Sand Stampers? Make: Fun! : Create Your Own Toys, Games, and Amusements tells you how!! Want to make custom cookie cutters? Make an oven using a light bulb and a can? Thinking ahead to Halloween? How about making a Tiki Mask? Cereal Box Sound Racers? There are even instructions n hot to make a talking booby trap, or a personalized talking doll? You got it – Make: Fun! has all the instructions for these – and more fun ideas!!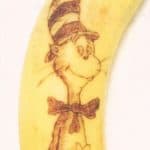 Make: Easy 1+2+3 Projects also fun projects – from a mini-foosball game, a clothes folding board, a simple lightup hoodie to tattooing a banana!
These are just a few (very few!) of the fun DIY project books we've got! Check below for additional resources and find something to make this holiday break!!
Have a great winter break! DIY something!!
Resources:
Burton, Bonnie. 2011. The Star Wars Craft Book. New York : Del Rey/Ballantine Books. Engineering Library TT157 .B87 2011
Schwartz, Jorday. 2014. The art of LEGO design : creative ways to build amazing models. San Francisco, Calif. : No Starch Press. Engineering Library TS2301.T7 S38 2014
Make Editors. 2015. Make : like the pioneers. San Francisco, CA : Maker Media. Engineering Library TT157 .M35 2015
Knetzger, Bob. 2016. Make: Fun! : Create Your Own Toys, Games, and Amusements. San Francisco, CA : Maker Media. Engineering Library TT174 .K58 2016
Additional Resources:
Cohen, Sahrye; Hal Rodriguez. 2018. Make it, wear it : wearable electronics for makers, crafters, and cosplayers. New York : McGraw-Hill Education. Engineering Library TK7870.C64 2018
Borgatti, Matthew, Kari Love. 2018. Make : soft robotics : a DIY introduction to squishy, stretchy, and flexible robots. San Francisco, CA : Maker Media, Inc. Engineering Library TJ211 .B665 2018
Baichtal, John. 2018. 10 LED projects for geeks : build light-up costumes, sci-fi gadgets, and other clever inventions. San Francisco : No Starch Press, Inc. Engineering Library TK7871.89.L53 L4324 2018
Santos, Rui; Sara Santos. 2018. 20 easy Raspberry Pi projects : toys, tools, gadgets, and more! San Francisco : No Starch Press, Inc. Engineering Library QA76,8.R15 S26 2018
Need more ideas? Go to InfoHawk and search Make. You can narrow it down to titles here in our library!