The world today would be a very different place without the inventions of Thomas A. Edison.  He was known as the Wizard of Menlo Park.
Edison had obtained 1,093 US Patents over 63 years from 1868 to 1931 (1,084 utility patents and 9 design patents).  Only 2 people hold more patents in the United States.  (1)
His research provided notable contributions to telegraphy, telephony, sound recording, electronic lighting, electric power generation and distribution, and the motion picture. (2) Edison's first invention, in 1869, was an electric vote-recorder.  It was to allow Washington congressmen to vote "yes" or "no" but they were not interested so the invention proved unsuccessful.  (http://www.google.com/patents/US90646)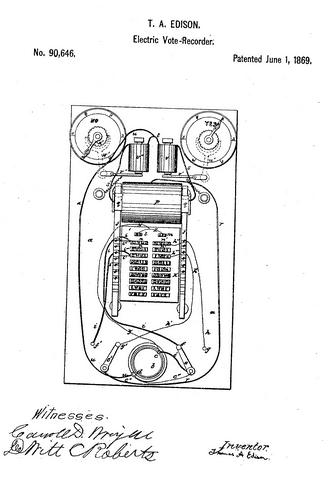 Other notable inventions include: (3)
STENCIL PEN: The stencil pen was the predecessor to tattoo pens.
PRACTICAL ELECTRIC LAMP: Edison's carbon filament light bulb was the first commercially viable electric light. Previous versions were not as durable and used expensive materials such as platinum.
FRUIT PRESERVER: Edison designed a fruit preserver that sucked the oxygen out of the glass jars, producing vacuum-sealed jars of fruit.
KINETOGRAPHIC CAMERA: The camera showed successive photos in a rapid speed so as to make them appear to be moving.
A complete listing of all of Thomas A. Edison's 1,093 patents:  http://edison.rutgers.edu/patents.htm
In addition to the patents issues in the United States, Edison also was issued 1239 patents by foreign governments. (4) 
Country
No.
Country
No.
Argentine
1
—
Mexico
14
Australia
6
Natal
5
Austria
101
New South Wales
38
Belgium
88
New Zealand
31
Brazil
1
Norway
16
Canada
129
Orange Free State
2
Cape of Good Hope
5
Portugal
10
Ceylon
4
Queensland
29
Cuba
12
Russia
17
Denmark
9
South African Republic
4
France
111
South Australia
1
Germany
130
Spain
54
Great Britain
131
Sweden
61
Hungary
30
Switzerland
13
India
44
Tasmania
8
Italy
83
Victoria
42
Japan
5
West Australia
4
Total of Edison's Foreign Patents——1239
To Learn More:
References: