Snow will soon be here and it's time for wintertime traditions – which includes gingerbread creations! National Gingerbread House Day is December 12th. Early history of the recipe is hazy, and may range to as far back as Ancient Greece in 2400 BCE to France in 992 AD. Early on, gingerbread was used in religious ceremonies or as a digestive aid. Gingerbread cookies as we now usually enjoy them, in fun shapes with decorations is usually credited to Queen Elizabeth I, who asked for cookies to be made in the shapes of visiting dignitaries. Gingerbread was incredibly popular across medieval Europe, and there were even Gingerbread Fairs to attend where you could enjoy gingerbread shaped according to the season – flowers for springtime, and birds in the fall. Because of tall of the spices required in the recipe, gingerbread was considered very high class, and those rich enough to have it in their own homes would sometimes decorate it with gold leaf.
The Germans began building gingerbread houses in the 16th century, and the practice became more widespread after the Grimm Brothers popularized Hansel and Gretel in 1812. Since then, gingerbread projects have turned into feats of engineering. The current world record holder for the largest gingerbread house was created by the Traditions Golf Club in Bryan Texas. This house covered 2,500 square feet, required 1,800 pounds of butter, and 1,080 ounces of ginger. It was so large that it required a building permit! If you don't have the space to try your hand at breaking this record, maybe you can try breaking Jon Lovitch's record for the largest gingerbread village. Lovitch's latest record-holding village (he has held the world record 4 times) contained 1,251 structures. If you try to break a record, be careful! The rules are very specific. One recent attempt was disqualified because it contained non-edible components.
Want to make your own gingerbread house to celebrate National Gingerbread House Day? Here are some tips:
Use a European recipe for your cookies. American gingerbread recipes tend to be softer, which is great for cookies, but not very helpful structurally. You can learn more about the chemistry of baking in Cooking For Geeks, which can be found in our collection. Check it out here!
Use a thick royal icing as your mortar. Finding the right consistency can be difficult, as it needs to be runny enough to easily spread, but thick enough to stay put.
Don't be afraid to use support! While using an internal support will disqualify you from earning any world records, but you can use a can of beans to help prop up your walls while the icing dries can ensure that the icing is able to dry in the correct position and free up your hands to move onto the next part of your project.
Plan ahead! Use your engineering skills to set yourself up for success.
Get Creative. You don't have to make a candy-covered cottage. Search online for fun ideas. Add lights, or try a different shape. See below for some examples: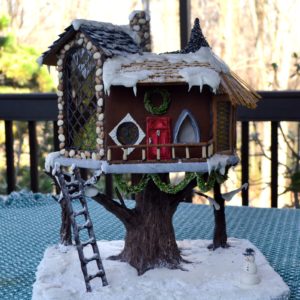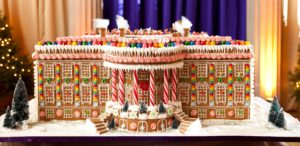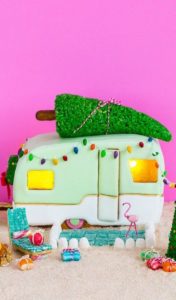 Personally, I want to see Kinnick Stadium made out of Gingerbread. Are you up to the challenge? If you build a gingerbread creation, show us! You can send it to us on any of our social media channels @uienglib on Facebook, Instagram, or Twitter.
Sources:
10+ Gingerbread House Tips for This Holiday Season 2021. (2021, September 19). Best Gingerbread Houses. https://bestgingerbreadhouses.com/gingerbread-house-tips/
Avey, T. (2014, May 28). History of Gingerbread | The History Kitchen. PBS Food. https://www.pbs.org/food/the-history-kitchen/history-gingerbread/
Guinness World Records. (2017, January 6). Largest gingerbread village. https://www.guinnessworldrecords.com/world-records/largest-gingerbread-village
McCandless, M. (2016, December 14). Gingerbread Houses – A Delicious History | Facts From the Stacks. Bellevue University Facts From the Stacks. https://blogs.bellevue.edu/library/index.php/2016/12/gingerbread-houses-a-delicious-history/
Wilson, A. (2018, December 22). A brief history of the gingerbread house. The Guardian. https://www.theguardian.com/travel/2018/dec/22/a-brief-history-of-the-gingerbread-house