It is already July, when we would normally be thinking of parades, fireworks, and picnics.
Things will definitely be different this summer!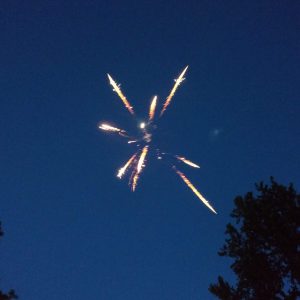 Many communities are looking for creative and safe alternatives to the traditional fireworks gatherings. The fear is there will more backyard firework displays – leading to more accidents and injuries. Some places – like Coralville – will be having fireworks this year, but held in an entirely different manner. There will be drive-by fireworks – spectators will be able to park and watch from their car, with strict social distancing guidelines. They will also live-stream the fireworks on Facebook. In other communities there will be vehicle parades – drive-by parades – for which residents will be able to safely view the parade in their own yards. Neighborhood residents are encouraged to decorate and enter their vehicle in the parades. Sadly, candy being thrown during the parades won't be allowed.
If you are looking for information about the safe handling and treatment of waste fireworks, check out this EPA brochure. You'll discover what you need to know to safely dispose of spent fireworks.
If you want to know the fireworks control laws for each individual state, the American Pyrotechnics Association (APA) has the site for you! Click on your state and find the pertinent laws! Be sure to check out your state's Fireworks Control Laws before deciding to do your own fireworks displays. Local municipalities also have laws that one must follow.
Here's more in-depth information on safe fireworks displays.
National Fire Protection Association (NFPA) 1123: Code for Fireworks Display: (must be accessed through InfoHawk)
For specific information check out these specific chapters!
Chapter 4: construction requirements for the fireworks
Chapter 5: site selection
Chapter 6: launching fireworks from a boat ("Floating vessel")
Chapter 10: qualifications needed to set off fireworks
NFPA 1124: Code for the Manufacture, Transportation, Storage, and Retail sales of Fireworks and Pyrotechnic Articles: (must be accessed through Infohawk)
Chapter 5: storage of fireworks
Chapter 8: transporting fireworks on Public Highways
Curious about the specifics of different types of fireworks? Check out the patents! Our patent guide will help direct you in your search!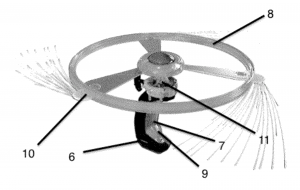 How about this one from 2012? Described as an "Electronic toy with synchornized (sic) sound and lighting system that utilizes projectiles and method of use."
It is described as: "An electronic toy with synchronized sound and lighting system that utilizes projectiles, and method, including a base, a projectile, pre-recorded sounds, a speaker, LED lights, and various circuitry."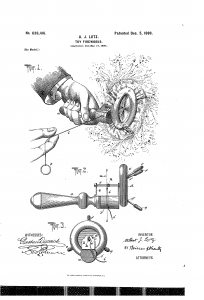 Or, there is this one from 1899: "Fireworks, i.e. pyrotechnic devices for amusement, display, illumination or signal purposes characterised by having holder or support other than casing, e.g. whirler or spike support." This "invention relates to toy fireworks, and has for its object to produce a device for exhibiting pyrotechnic effects resembling pin or catharine wheels."
When you are out celebrating and watching the displays and listening to the whistles and the booms (whether virtually or socially distanced), please be mindful of your neighbors and those around you. The United States Marine Corp has a webpage dedicated to raising awareness of how fireworks can affect veterans with PTSD. They aren't asking that you forego your festivities, but be aware of where you are and what time of the day – or night – you are shooting off your fireworks. Fireworks also effect pets. The American Veterinary Medical Association (AVMA), has information on ways to keep your pets happy and healthy during the festivities. There is info on how to care for your pet during the celebration and also includes tips on preparation and cleanup after the celebration.
Wherever your fascination and interest with fireworks lie,
check out our webpage and discover all the resources that we have available!
RESOURCES:
EPA Fireworks Brochure. June 2017. Safe Handling and Treatment of Waste Fireworks. United States Environmental Protection Agency.
National Fire Codes. Accessible through our webpage (need Hawk ID and Password(=).
2020 State Fireworks Control Laws. American Pyrotechnics Association.
Electronic toy with synchorized (sic) sound and lighting system that utilizes projectiles and method of use. Patent US20140187119A1
Toy fireworks. Patent US638416A. United States.
Marine Corps Community Services. 2016. Fireworks and PTSD: How to Raise Awareness. United States Marine Corp. (Accessed July 2020)
American Veterinary Medical Association. 2020. July 4 Safety. AVMA; American Veterinary Medical Association.