Congratulations to our student assistants, Rachel and Jarod!
They are both graduating this December and we are so excited for them!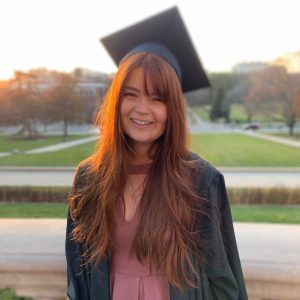 Rachel Henkle has been working with us for three and half years as a Student Assistant, and we are going to miss her smiling face! She is getting her degree in communications and would like to end up in event planning, Human Resources, or in an administrative position. During her time here at the University, she enjoyed being part of the leadership for the On Iowa! program. She also says that has really enjoyed working in the engineering library because she likes being able to help other students find what they need. This last semester she had a four-credit internship with us, which added to her normal duties at the circulation desk and included helping with class and workshop preparations, doing some data entry and curating an exhibit. She says that one of the favorite parts of her job include "working alongside amazing people and becoming more organized."
Jarod Concha will be graduating with a degree in Civil Engineering and has been working with us as a Student Assistant for three years. His after-graduation plans include an internship before attending grad school in the fall of 2020. Some of Jarod's favorites parts of being at UI are becoming familiar with Iowa City and all the arts, festivals, food, and football! He has enjoyed working at the engineering library because he likes seeing all the faces – both familiar and new – while seeing the wide range if disciplines the library caters to. He also said, "I want to say how grateful I am for having this job during my undergrad. School is stressful, and I feel like this job helped me strike a good balance between study, work, and leisure time. I will miss my co-workers and helping fellow students. I will look back fondly at my time in the library."
CONGRATULATIONS!!