Valentines Day is approaching and love is in the air – that's why we have brought back our Blind Date with a Book event! All month long you can stop by by yourself, with a friend, or with a significant other and pick up your own to read.
Never tried out a Blind Date with a Book? Here's what you can expect:
You'll find the shelf of books by the wooden wall on the main floor of the library. Just walk in and turn left after the sand table. You'll see a wooden shelf with a bright pink sign on the top (you really can't miss it, but if you do just ask at the service desk!)
Each book is individually wrapped – do not unwrap the books! Read the tags and see what interests you. We have included a general category at the bottom to help you quickly narrow down your options (fiction, nonfiction, biography, graphic novel). Pick out something that interests you and bring it up to the desk. DON'T UNWRAP THE BOOK YET!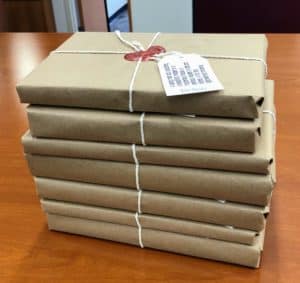 At the desk we will check out the book to you using the barcode on the back. NOW you can unwrap the book and see who your blind date is! We included a bookmark inside (or on the back in a few cases) for you to use while you're reading your books. When you return the book, please do us a favor and fill out the back of that bookmark and return that to us as well. Blind Dates will be available all month long, so check out as many as you want!