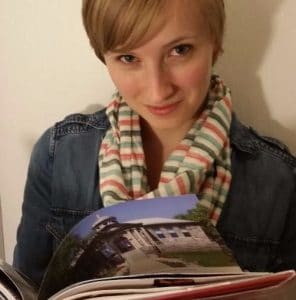 Rachel Black is a graduate assistant in the Iowa Women's Archives. As part of her graduate work in the School of Library and Information Science she has been working on a project called "@ Your Local Library."
"@ Your Local Library" is a series of photo essays bringing to life stories of the important work going on behind the scenes in libraries around the area, and posting about them on a WordPress site as well as Tumblr and Facebook.
On the "About" page for her website, Black describes her goals:
"Unfortunately, a lot of people aren't aware of everything their local library has to offer. They see the books and the computers, but not the new programs or initiatives librarians are working to provide in order to create a happy and healthy community. I started this website in order to share with everyone the different ways librarians are working to benefit their communities."
As part of the project, Black posted a six part series featuring librarians and staff from the Iowa Women's Archives. The posts are embedded as a series below. Be sure to check out her pages to read all of the compelling stories of work going on in libraries around The Corridor.
http://atyourlocallibrary.tumblr.com/post/152566097429/my-mother-was-a-librarian-in-elementary-school
http://atyourlocallibrary.tumblr.com/post/152596425799/about-a-year-after-i-finished-my-dissertation-my
http://atyourlocallibrary.tumblr.com/post/152643829869/currently-im-processing-the-collection-of-a
http://atyourlocallibrary.tumblr.com/post/152686111664/weve-had-very-special-projects-to-preserve-the
http://atyourlocallibrary.tumblr.com/post/152728897074/whats-your-favorite-part-about-working-at-iowa
http://atyourlocallibrary.tumblr.com/post/152768035209/i-think-one-of-the-biggest-challenges-of-archives