What did you do on your summer vacation?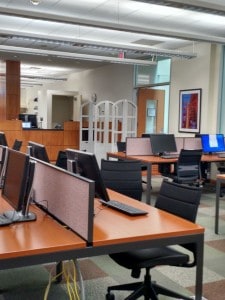 It's hard to believe that the fall semester is about to begin! The campus is full of students eager to start classes and see all the changes that have occurred on the campus over the summer.
On our summer "vacation" we updated the Lichtenberger Engineering Library! We have 20 new computers, along with new chairs and computer tables. We also now have two scanners – the brand-new-just-added scanner is a high-speed, face-up book capture system that is as quick and easy to use as a copy machine. We also have two printers that are accessible from either your laptop or the library desktop computers. Both scanners, the print stations and the copier are all located together for easy access.
We have a variety of spaces for all your studying needs. Besides the 20 new computers, we have 12 computers in the multi-purpose room and 2 pods for group study – one of which has a MediaScape. We have both group study tables and study carrels for individual use. The lower level is a quiet study space complete with study carrels, easy chairs, bean bag chairs, and gamer chairs. The 150,000 books in our collection are also located on the lower level and cover subject matter from Aeronautics to Z-80 Programming.
There is also a wonderful collection of DVDs – everything from Mythbusters, Junkyard Wars, How It's Made, Extreme Engineering, and a host of other titles that are all available by asking at the circulation desk.  Journal subscriptions cover everything from Road & Travel, SWE, Make Magazine, to The Journal of Theoretical & Applied Mechanics.
We have access to over 3,000 e-resources and online subject guides covering information for all the engineering majors.  You can access IEEExplore, over 20,000 Standards, Patents, a citation guide, information on Engineering ethics, copyright and open access information. There is also a wide range of handbooks and digital publications, all available from the Lichtenberger Engineering Library homepage. You can search course reserves, databases and e-journals directly from our homepage, too.  If you want more information about our resources and how they can be used, we offer Xpress Classes – short 30 minute introductory classes led by specialized librarians. Classes begin September 3rd and are held on Thursdays from 2:30 to 3:00 p.m. in the Library multi-purpose room. The final class will be held on November 19th. Each class is designed to help get you started using the various resources that will help you with your assignments and projects.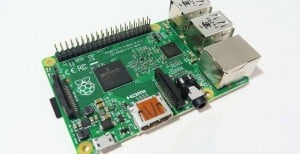 We are also one of the only academic libraries in the country with a Tool Library! We have hand tools, LabQuest, measuring tools, and technology tools – wrenches, Hex Keys, Screwdrivers, Computer toolkit, calipers, angle locators, light meters, tubular spring scales, acoustic microphone, and an eyeball webcam to name a few. AND we have just added a MaKey MaKey Kit and Raspberry Pi 2!
Explore our homepage – with inks to new books, resources, our blog, and how to get help. Then come explore the library! We are at 2001 Seamans Center – just off the Student Commons. Our hours are listed on our homepage – so stop in!
Head Librarian, Kari Kozak and Informatics Librarian, Qianijn (Marina) Zhang, are available for research consultations and all our staff are available to help you find the resources you need! And don't forget to "like" us on Facebook and follow us on Twitter and Pinterest!
Come see all we have to offer – we look forward to seeing you soon!