Coding Music with Sonic Pi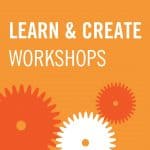 Learn the basics of coding while creating music! Using a Raspberry Pi, this workshop will have you making music in real-time. Each line of code you put in will change the song being heard. Taught by Jean-Francois Charles, School of Music.
Please be sure to bring your own laptop and pick up the beat with a new open source programming environment called Sonic Pi!
This workshop is FREE, but class size is limited, so register now!! Visit the Learn & Create webpage for more information on all the great workshops!
Creating Music with Sonic Pi
Tuesday, October 15th
5:00PM
Engineering Library Creative Space
Individuals with disabilities are encouraged to attend all University of Iowa-sponsored events. If you are a person with a disability who requires a reasonable accommodation in order to participate in this program, please contact Kari Kozak at kari-kozak@uiowa.edu in advance of the event.
Featured image: By Les Pounder from Blackpool, UK – Screenshot-Sonic Pi, CC BY-SA 2.0, https://commons.wikimedia.org/w/index.php?curid=67260553