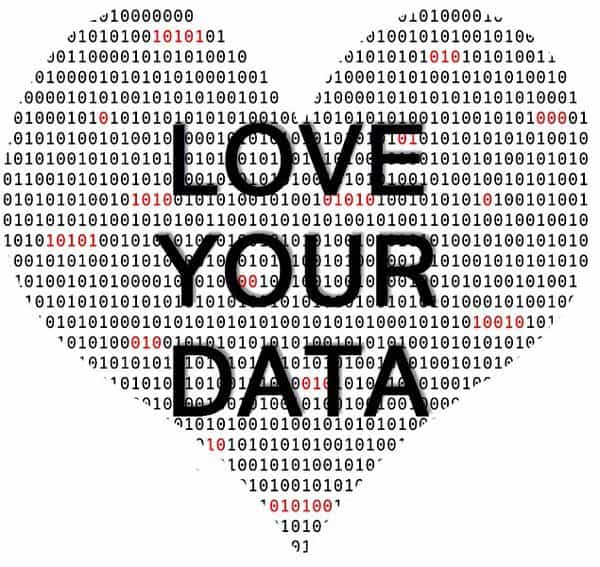 Valentine's Day isn't just for people – it is time to Love Your Data, too!
Love Your Data Week (LYD) is about recognizing the ways in which individuals and institutions can care for their data – by adopting consistent practices, and then modeling and implementing those practices. Federal funding agencies have more and more requirements with which researchers must comply. More public access to research results – including data – is one of those requirements. Love Your Data week will help researchers, libraries, and students look at how to be responsible stewards of their work.  The LYD website provides tips and tricks for managing research data, resources to help with data management, and daily activities. 
According to the LYD website, "Loving your data means investing in it, taking care of it for the future. Over the five day event, we will guide you through five activities to help get your data organized, secure, and ready for write-up, sharing and reuse."
Each day of LYD week has a different theme:
Monday, Feb. 8: "Data: Keep It Safe"
Tuesday, Feb. 9: "It's the 21st Century — Do You Know Where Your Data Is?"
Wednesday, Feb. 10: "What Did I Mean Here?"
Thursday, Feb. 11: "Give/Get Credit for Data"
Friday, Feb. 12: "Think Big: Transforming, Extending, Reusing Data."
Involvement across social media platforms is encouraged, and to be involved in the conversation use #LYD16 for Twitter, Instagram and Facebook. For Pinterest use Resources to help you LYD, and The changing face of data.  Unsure about how best to get involved? Check out the logistical details link for all you need to know! Join in the conversation, share your experiences and connect with others in data management!
The University of Iowa Libraries also has a thorough Resource Data Services guide to help you with your data management. There is information on organizing and documenting your data, creating a data management plan and other resources. If you have any questions you may email Qianjin (Marina) Zhang, the Licthenberger Engineering  & Informatics Librarian at qianjin-zhang@uiowa.edu; Sara Sheib, University of Iowa Sciences Library Reference & Instruction Librarian at sara-scheib@uiowa.edu, or by emailing lib-data@uiowa.edu
Like us on Facebook, follow us on Twitter (#UIEngLib), and Pinterest to keep up-to-date on all our activities and resources.
Have fun checking out all the data resource management tools we have available and learn to Love Your Data!
Resources:
Love Your Data. 2016.
Celebrate Love Your Data Week with Emory Libraries Feb. 8-12. February 2, 2016.  Emory Libraries & Information Technology. Emory University.
Libraries' Love Your Data Week raises awareness among research universities. Feb. 5, 2016. Penn State News.