One of our favorite spots in the Engineering Library is the Creative Space. It's packed full with almost everything you would need to get an idea off the ground. If you need something else, just ask – we might have a way to get it for you or get you in touch with someone who can! But what is a Creative Space?
Developed several years ago, the Creative Space is our version of a makerspace. A growing trend in academic libraries like ours, makerspaces provide students with tools and machines that they may not have easy access to. Here at the Engineering Library you can check out over 275 tools (more about our Tool Library in tomorrow's post), as well as use of several machines. Let's take a moment to take a closer look at them.
First up is our Matter & Form 3D Scanner: This scanner stays put in the Northwest Corner of the Creative Space under the sign that says "3D Scanning Station," and can measure items up to 9.8″.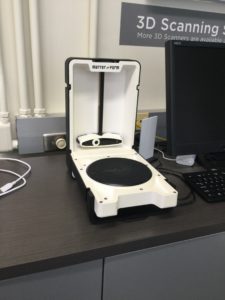 Right next to the Matter & Form Scanner is the Cricut. Able to cut, draw, engrave, and perforate over 300 materials, the Cricuit Maker 3 is a great tool for when you need precision. Did you see the tags we made for our Blind Date with a Book event? Those were cut and written with our very own Cricut! If you want to use it, you will need to bring your own materials, but we're happy to help you learn the software.
The newest addition to the Creative Space is a MakerBot 3D Printer. Gifted to us by our friends at the Engineering Electronics Shop, our 3D printer is part of a pilot program. It can print items up to 4″x4″x5″ and is free to use. Users are limited to 1 print per day, and full policies can be found here. If you want any large or highly precise prints, you'll still need to contact the Engineering Electronics Shop, but our MakerBot can help you try out a print or create a prototype with less risk.
If you want to create a prototype with something other than 3D printing filament, check out our prototyping station. The materials you find there may change from time to time, but right now they include construction and tissue paper, popsicle sticks, and pipe cleaners. Stop in and check out what else we have on hand for you.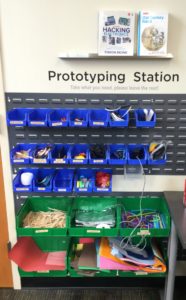 We also have two Virtual Reality stations, one with an HTC Vive and one with an Oculus Rift. Controllers for the systems can be checked out at the front desk.
The Creative Space is also a great place to study! There are several tables and plenty of outlets to keep your computers and phones charged. two computer stations with collaboration tables so you can work together on one screen. You can also use any of the glass panels on the walls to work through a calculus problem together.
When you stop in, you may find a friend hanging around. Don't worry about him, he's a (skele)ton of fun!