If you go browsing through our shelves you might see something you're not expecting – a VHS case! No, we did not start bringing videotapes into our collection, you've just found one of our physical e-books.
We've chosen a few of our most popular e-books to have physical representation on the shelves. This way, when you're browsing for a subject you might run across a helpful e-book you wouldn't seen before. Getting the book is very simple, just use your phone to scan the QR code!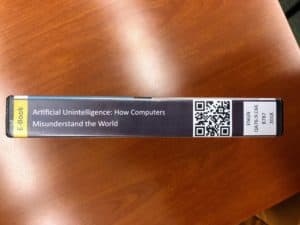 If you want to remember the book but don't have time to read? Open the case and take a flyer! The flyers have information on the book along with a QR code so you can find it again when you have time. If you take the last flyer please let us know at the front desk so we can put more in.
Check the shelves and try it for yourself!