Want to do something totally different this weekend? Have a pile of LEGO® blocks lying around? How about making an ice cream maker!? Then, how about home-made S'mores ice cream? Want the flavor of the fire-toasted marshmallows? Try making your own liquid smoke!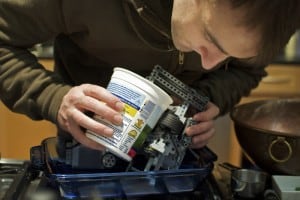 To make the ice cream maker you'll need a LEGO® Technic Kit, an XL motor, a large (empty) yogurt container and, of course, the LEGO© blocks. The base of ice cream is traditionally milk or cream with flavorings added. That homemade ice cream maker will agitate the base as it freezes.
If you don't want to try your hand at making the LEGO® ice cream maker, you can use a traditional ice cream maker and then use either dry ice or liquid nitrogen for the freezing.
For S'mores ice cream, the base consists of whole milk, heavy cream, sugar, chocolate syrup, medium-sized marshmallows and liquid smoke. You can buy liquid smoke or make your own. If you buy liquid smoke the ingredients should only be "water, smoke." Really, that's all. Making your own liquid smoke requires about $20 in ingredients and is best done with chemistry equipment in a lab. This will allow you to create a closed system to capture the liquid smoke and to heat it safely. Buying your liquid smoke is cheaper, takes less time, and is a little safer…
Ready to make the S'mores ice cream? Combine the base ingredients, pre-chill it, put it in your LEGO® machine and it will all – including your LEGO® machine – go into your freezer. Once the base is set, stir in graham crackers, toasted and cut into pieces. Serve with hot fudge or chocolate syrup – add whipped cream, cherries or nuts if you like.  Yum….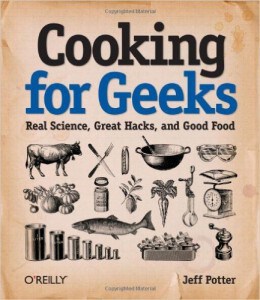 For the instructions and recipes, check out Cooking for Geeks: Real Science, Great Hacks, and Good Food, by Jeff Potter.
Have fun building your Lego ice cream maker and enjoy that home-made ice cream!!
Resource:
Potter, Jeff. 2010. Cooking for geeks: real science, great hacks and good food. Sebastopol, CA : O'Reilly. Engineering Library TX715 .P882010