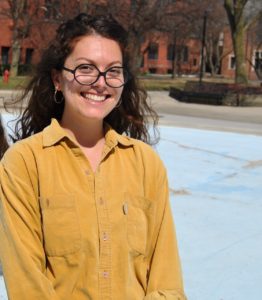 Special Collections & Archives is excited to welcome Kathryn Reuter to the team as our new Academic Outreach Coordinator.
As Academic Outreach Coordinator, Kathryn will be working with both the UI Libraries and Stanley Museum of Art to increase visibility and usability of our deep and culturally diverse collections of art and visual materials. Kathryn will collaborate with faculty to bring object-based learning into the classroom and leading object-centered teaching and research workshops for instructors across campus.
Kathryn has an Associate of Arts from Orange Coast Community College, a BA in History from California State University Long Beach, and an MA in History and an MLS with an Archives Concentration from University of Wisconsin Milwaukee. She has interned at the Getty Research Institute as a Multicultural Intern, and as Watson Library Intern at the Metropolitan Museum of Art. She also served as a Cataloger and Researcher at the National Bobblehead Hall of Fame and Museum in Milwaukee, and as a Graduate Teaching Assistant at Wisconsin Milwaukee. Her research interests also include animal studies, the history of homelessness and food insecurity (as well as food justice and housing activism), and the history of vegetarianism/ veganism — and animal rights activism.
"In my new role as Academic Outreach Coordinator, I am looking forward to finding connections across the Stanley's and the Library's collections. I love teaching and aim to empower students to interpret art and rare materials on their own. Museums and libraries can be intimidating spaces, but I fully believe art is for everyone! And the library is for everyone! I am excited to be a part of making the library and the museum welcoming spaces where students have fun learning."
When not at work, Kathryn enjoys mail and mail art, making and writing a lot of postcards and letters. She also collects and makes zines. Her favorite food is a veggie California-style burrito (which she informs us is a an amazing creation that features french fries inside of the burrito–so you know we'll have to try it here in Special Collections).
We're excited to work and learn more from Kathryn.