The following was written by Curator of Books and Maps, Eric Ensley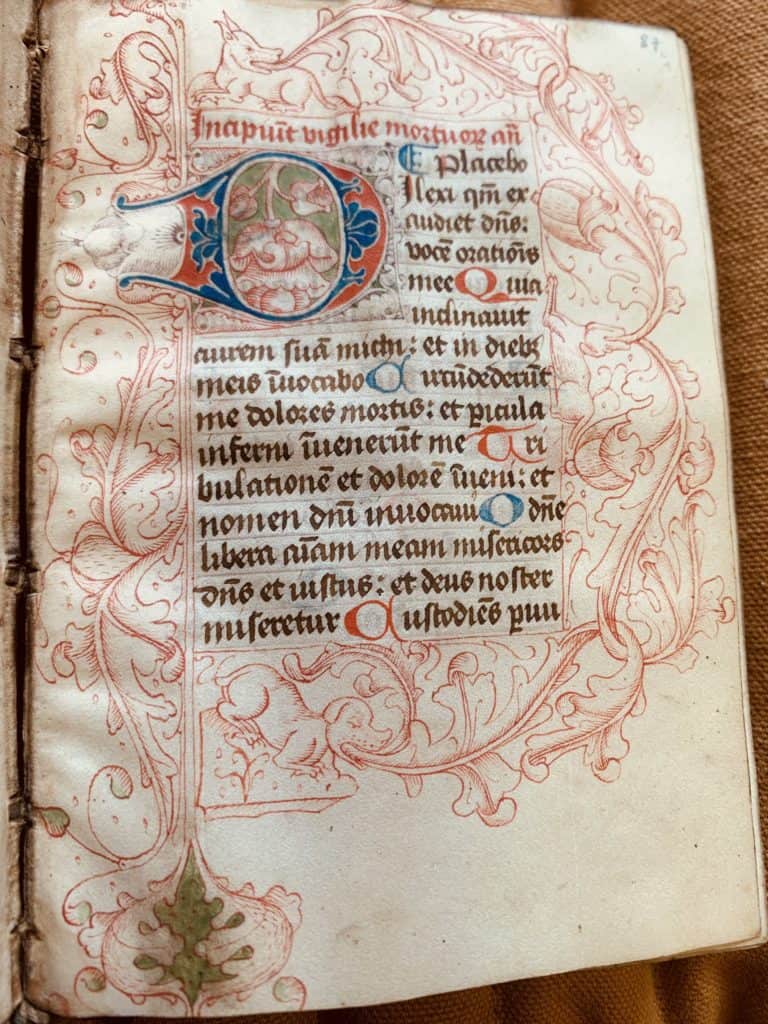 Iowa's Medieval Manuscripts Collection has gone to the dogs, or at least to a new book with dog-themed decoration.
Just in time for the tulips blooming across Iowa, our newest medieval book, a beautifully decorated book of hours, comes to us from late medieval Holland. In short, a book of hours is a collection of prayers and liturgical offices that may have been owned by a layperson or a member of the clergy. Books of hours are among our most popular requests for classes and one glance will tell you why— these books are often elaborately decorated with flora and fauna drawings, gold leaf, and even donor portraits in some deluxe copies.
Yet our new book of hours is a bit more restrained than other fifteenth-century examples. There's no gold leaf and major decoration is limited to only four pages, where elaborate penwork and coloration lends the book an almost cartoon-like quality. The relative restraint of this book and its localization to the Netherlands—more on that in a moment—suggest it may be emblematic of the Devotio moderna, a late medieval movement in Northern Europe that emphasized piety and asceticism in lifestyle and possessions.
Books of hours are fascinating testaments to the growth of book ownership among laypeople in the later Middle Ages. Though still owned by a very small and wealthy subset of society, books were often prized possessions used to showcase wealth and piety. Despite being prized possessions, many books made at this time lack exact dates and location of production. However, we can still "localize" or try to get an idea of where a book of hours is from by looking at several clues. For example,. books of hours typically include calendars that may call for veneration of local saints. Likewise, every book of hours has a "Use" that subtly shifts the wording and order of liturgical office based on the diocese in which it was used. Books of hours from late medieval England, for example, can be either Sarum Use—the Use of Salisbury—or the less common Use of York.
Our book of hours can be localized to Holland based on some of the saints that appear in the calendar, e.g. Saint Pontianus, patron saint of Ultrecht, in January and the Feast of the Translation of Saint Martin in July both point to the Use of Utrecht. Then, the cartoon-like decoration is unique among books of hours that comes almost exclusively from the city of Delft. Finally, our book of hours contains several ownership marks, including "Jan Kerstants" and "Robert Ghilet, 1629," both of which are Dutch names.
But what about all the dogs? This book of hours has a full-page decorative ensemble depicting dogs with foliage extending from their mouths. Likewise, the contemporary panel-stamped binding depicts the story of Saint Roch, who cared for plague victims and contracted the plague himself. According to the story, Roch flees to the forest after becoming ill, where he is brought food and has his wounds licked by hounds, perhaps suggesting that the canine motif of the binding is also present in the decorative program within the book. Saint Roch is also the patron saint of pilgrims, and one might contemplate a diminutive book of hours such as this accompanying a pilgrim as he or she traveled—perhaps with a canine companion of his or her own!
Many thanks to Dr. Scott Gwara and Dr. Ed van der Vlist, Curator of Medieval Manuscripts at the National Library of the Netherlands for their aid in identifying this book of hours.
Once cataloged, the call number for this lovely little book will be xMMS.Bo11.