The following was written by International Dada Curator Timothy Shipe
It is with profound sorrow that we note the passing of Dr. Marvin Sackner on Tuesday, September 29 at age 88, just a few weeks after the opening of this exhibition. For those of us at Iowa, Dr. Sackner will be forever remembered for selecting the University Libraries as the permanent home of his world-renowned collection of concrete and visual poetry; but as his obituary shows, his memory will be treasured for his countless contributions in many areas—by his numerous patients, by members of the medical profession, by artists, art historians, and literary scholars around the world, and most of all by his beloved family.
We had originally planned to open this exhibition in May 2020 with a gala event featuring a guest lecture by Dr. Sackner accompanied by his entire family. Given Dr. Sackner's stature as a world-famous pulmonologist, there is a sad irony in the fact that his visit to Iowa was thwarted by the COVID-19 pandemic. Those of us who had the privilege of getting to know Marvin—and to hear his engaging manner of telling the story of his collection and the artists represented in it—know what an opportunity the public has missed now that there will be no chance to welcome him back to campus. But we can take comfort in knowing that current and future generations of Iowans and visitors from around the world will be able to engage with the Sackners through their legacy—the magnificent collection they amassed and curated over four decades, which now resides in the UI Libraries Special Collections.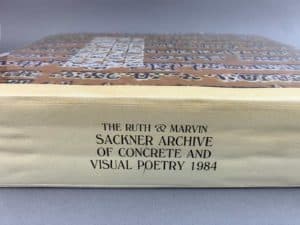 We now rededicate this exhibition to the memory of Ruth and Marvin Sackner, extraordinary art collectors, generous individuals, and above all, kind and loving human beings.
——
For more about the exhibit and archive, please check out the Sackner Archive LibGuide.