The following comes from Olson Graduate Assistant Rich Dana
John Giorno, poet, artist, and activist, passed away Friday, October 12th at the age of 82. Although readers may not be familiar with his name, Giorno was one of the most influential American artists of the post-war 20th century. He blurred the boundaries between written, visual and performance art, fine art, and pop culture.
A native New Yorker, Giorno grew up among the literary and artistic giants of the early 1960s. He appeared in early Andy Warhol films, and he became a junior member of the beat movement, befriending the likes of William Burroughs, Allen Ginsberg, and Brion Gysin.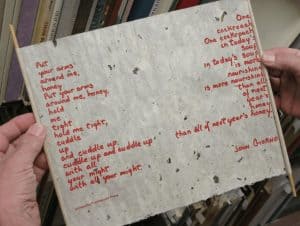 His fiery and transgressive spoken-word style laid the groundwork for the performance art and slam poetry movements, and his open and unapologetic descriptions of his life as a gay man was thematically revolutionary at the time. His Giorno Poetry Systems "Dial-a-Poem" service in the late 1960s allowed users to call a series on answering machines and hear writers discussing the Vietnam War, the sexual revolution, and other politically-charged topics.
Sources close to Giorno say that the 82-year-old artist was in good health and was working in his studio at the time of his death. Readers can find out more about Giorno in the New York Times obituary.
Special Collections holds several of Giorno's works, which are available to view any time in the reading room.