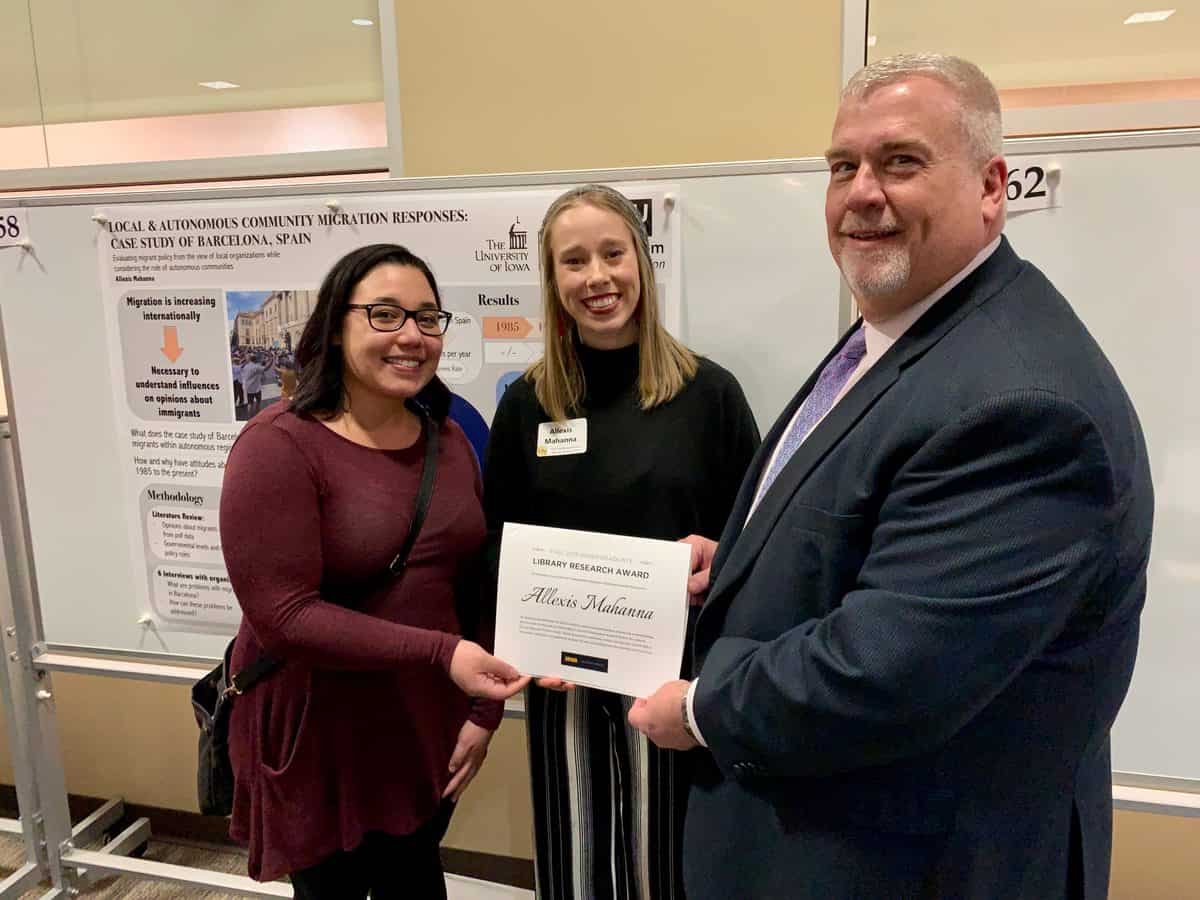 Allexis Mahanna, a UI senior majoring in global health studies, won the inaugural Undergraduate Library Research Award (ULRA) offered by the University of Iowa Libraries. Mahanna was selected from a competitive pool of undergraduate researchers who applied for the award and presented their work at the University of Iowa's Fall Undergraduate Research Festival held November 13, 2019.
Mahanna's research focuses on the differences in migration policies between the autonomous community of Catalonia and the local municipality of Barcelona, Spain. She evaluated the local migration policies of Barcelona through a case study framework analyzing country-wide policies and community perceptions of migrants.
Her research integrated library resources—including databases such as Web of Science, SAGE research methods, and services in SEAM—with specialized instruction on coding methods from SEAM Graduate Student Megan Dial-Lapcewich. Mahanna also met with librarians Brett Cloyd and Cathy Cranston and sought poster design assistance from Nikki White in the Libraries' Digital Scholarship & Publishing Studio in preparation for presenting at the Fall Undergraduate Research Festival.
The Undergraduate Library Research Award was established this year by Jenay Solomon, librarian in the UI Libraries' Undergraduate Engagement Department, who collaborated with Bob Kirby and Melinda Licht of the Iowa Center for Undergraduate Research (ICRU) to integrate the new award into the Fall Undergraduate Research Festival.
The award carries a $500 prize, which is funded by the Friends of the University of Iowa Libraries. The Libraries will offer the award again at the UI's Spring Undergraduate Research Festival. The award is open to any undergraduate student in any year or discipline who demonstrates creative or innovative research skills in the selection, integration, and synthesis of resources, services, and materials from the UI Libraries.
Special thanks to UI librarians who served on the Fall 2019 ULRA review committee: Conrad Bendixen (from the Sciences Library and Main Library Liaison Services in Humanities and Social Sciences) and Kelly Hangauer (from Main Library Liaison Services in Humanities and Social Sciences), Heather Healy (from the Hardin Library for the Health Sciences), and Laurie Neuerburg (from the Sciences Library). Committee members helped create an assessment rubric for evaluating applicants and assisted in selecting this semester's winner.