Welcome to our rotating DVD display, here we will present a themed selection of titles for you to browse. If you would like to borrow a DVD, just click the link below the title and sign in with your Hawk ID and password to make a request. Thanks for browsing!
Parasite
Bong Joon Ho brings his singular mastery home to Korea in this pitch-black modern fairytale. Meet the Park Family: the picture of aspirational wealth. And the Kim Family, rich in street smarts but not much else. Be it chance or fate, these two houses are brought together and the Kims sense a golden opportunity. Masterminded by college-aged Ki-woo, the Kim children expediently install themselves as tutor and art therapist, to the Parks. Soon, a symbiotic relationship forms between the two families. The Kims provide "indispensable" luxury services while the Parks obliviously bankroll their entire household. When a parasitic interloper threatens the Kims' newfound comfort, a savage, underhanded battle for dominance breaks out, threatening to destroy the fragile ecosystem between the Kims and the Parks. By turns darkly hilarious and heart-wrenching, Parasite showcases a modern master at the top of his game.
https://search.lib.uiowa.edu/permalink/f/7nh330/01IOWA_ALMA21790709460002771
Desert One
It has been called "the most audacious, difficult, complicated rescue mission ever
attempted." Desert One uniquely blends emotion and bravado to tell the incredible
tale of America's secret mission to free the hostages of the 1979 Iranian Revolution. Two-time Academy Award®-winning filmmaker Barbara Kopple discovers a wealth of unearthed archival sources and receives unprecedented access, engaging in intimate conversations with many of the soldiers closest to the story, some for the first time, as well as President Jimmy Carter, Vice President Walter Mondale and TV newsman Ted Koppel. Evocative new animation brings audiences closer than anyone has ever gotten
to being on the inside for this history-making operation.
https://search.lib.uiowa.edu/permalink/f/7nh330/01IOWA_ALMA21797784370002771
Harriet
Based on the thrilling and inspirational life of an iconic American freedom fighter, Harriet tells the extraordinary tale of Harriet Tubman's escape from slavery and transformation into one of America's greatest heroes. Haunted by memories of those she left behind, Harriet (Cynthia Erivo) ventures back into dangerous territory on a mission to lead others to freedom. With allies like abolitionist William Still (Leslie Odom, Jr.) and the entrepreneurial Marie Buchanon (Janelle Monáe), Harriet risks capture and death to guide hundreds to safety as one of the most prominent conductors of the Underground Railroad. Witness the story of a woman who defied impossible odds to change the course of her life and the fate of the nation.
https://search.lib.uiowa.edu/permalink/f/7nh330/01IOWA_ALMA21797800130002771
EuroVision
Eurovision Song Contest: The Story of Fire Saga is a 2020 American musical comedy film directed by David Dobkin and written by Will Ferrell and Andrew Steele. Starring Ferrell and Rachel McAdams, the film follows Icelandic singers Lars Erickssong and Sigrit Ericksdóttir as they are given the chance to represent their country at the Eurovision Song Contest. Pierce Brosnan, Dan Stevens, and Demi Lovato also star.
https://search.lib.uiowa.edu/permalink/f/7nh330/01IOWA_ALMA21786629310002771
Sprinter
A Jamaican teen who is burdened by an unstable father and an unruly older brother hopes a meteoric rise in track-and-field can reunite him with his mother, who has lived illegally in the U.S. for over a decade. Bonus features include: English subtitles for the deaf and hearing-impaired, 5.1 Surround, 2.0 Stereo, Theatrical Trailer, Photo Gallery, Sprinter Premiere at The Grove
https://search.lib.uiowa.edu/permalink/f/7nh330/01IOWA_ALMA21786669810002771
Long Shot
Fred Flarsky (Seth Rogen), an unemployed journalist battered by his own misfortune, endeavors to pursue his childhood crush and babysitter who now happens to be one of the most powerful and unattainable women on the planet (Charlize Theron).
https://search.lib.uiowa.edu/permalink/f/7nh330/01IOWA_ALMA21800481590002771
Goldie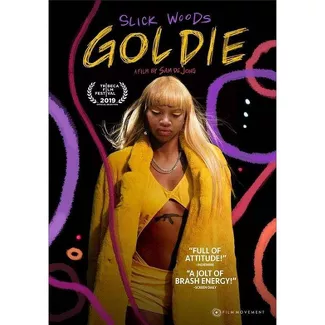 A vivid yet languid '70s mood out of a John Cassavetes film, complete with a softly intoxicating score, welcomes you into the world of "Goldie" in its early moments. Then with a serene pace, writer/director Sam de Jong's electric touches light up the screen with humanistic hues: we are in a colorful and energetic corner of the Bronx, following a young woman leading a life that stands in such stark contrast to all the vibrancy that surrounds her. Played by Instagram model Slick Woods in a stunning debut performance, she is the 18-year-old title character Goldie, holding on to the dream of becoming a famous dancer one day. While her youthful mind and soul keep her vision alive against all the odds, she pursues a lucky break in a rap video any which way that she can.
https://search.lib.uiowa.edu/permalink/f/7nh330/01IOWA_ALMA21802583030002771
Irresistible
Written and directed by Jon Stewart, Irresistible is a comedy about what happens when a small town becomes the main attraction for two rival political consultants. Top Democratic consultant (Steve Carell) sees an opportunity to win back voters in America's heartland when a video of a passionate farmer and retired Marine colonel (Chris Cooper) goes viral. After a long, hard day's work as a farmhand, Gary persuades the farmer to run for mayor. However, when the Republican National Committee counters him by sending in his brilliant nemesis, Faith Brewster (Rose Byrne), Gary is more than primed to up his game, turning this local race into a hilarious game of tug of war.
https://search.lib.uiowa.edu/permalink/f/7nh330/01IOWA_ALMA21793822180002771
How About Adolf
It should have been a wonderful evening. Stephan and Elisabeth have invited their family and friends over for dinner, but as soon as Thomas announces that he and his pregnant girlfriend Anna are planning to name their unborn son Adolf, things get out of hand. As the evening escalates, secrets are revealed and truths are dragged to light in a clash of egos, wounded prides and hidden passions, served up for all to enjoy. A breakout hit at the German box office, award-winning director Sönke Wortmann (The Miracle of Bern) has crafted a hilarious social satire lathered in witty dialogue and perfect timing, where German guilt and angst over the Nazi past meets a family dinner gone awry.
https://search.lib.uiowa.edu/permalink/f/7nh330/01IOWA_ALMA21790108110002771
By The Sea
Written, directed and produced by Academy Award winner Angelina Jolie Pitt, By the Sea follows an American writer named Roland (Brad Pitt) and his wife, Vanessa (Angelina Jolie Pitt), who arrive in a tranquil and picturesque seaside resort in 1970s France, their marriage in apparent crisis. As they spend time with fellow travelers, including young newlyweds and village locals, the couple begins to come to terms with unresolved issues in their own lives.
https://search.lib.uiowa.edu/permalink/f/7nh330/01IOWA_ALMA21789471320002771